News
Inside Danish Sport: Titletown Copenhagen
---
In the end, experience won over youth.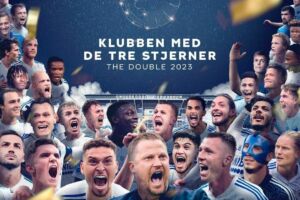 FC Copenhagen are Danish Superliga champions for the 15th time following a hard-fought victory over Viborg yesterday afternoon.
FC Nordsjælland's 1-5 collapse against Brøndby sees the league being decided before the final round on June 4.
FCN will end up with silver, while AGF Aarhus and Viborg will battle it out for the bronze medal on the final day.
Ten rounds in and FCK looked anything but champions. Although they were in the Champions League, erratic play and too many defeats saw head coach Jess Thorup being sacked.
He was replaced by 35-year-old assistant coach Jacob Neestrup, who turned the tide and led the Lions back into the title race.
As a player, Neestrup earned a few games for FCK back in the day, but there is little doubt his playing days will be eclipsed by his manangerial career.
Despite having a long list of injuries, FCK somehow mananged to pull out wins in tough games over the past few weeks – including a come-from-behind 4-3 over AGF last weekend.
FCN, meanwhile, struggled to pick up vital points away from home – not once did they win on the road in 2023. You must do exactly that to become champions.
READ ALSO: Inside Danish Sport: Orange is the new yellow
Superior victory
"It is in many ways a historic championship. We were catching up most of the season, but we said from the start that there is only one thing that counts for us, and that is the double. I know everything has not been great this year, but we end up winning relatively superiorly when you look at the results," said Neestrup.
FC Copenhagen regained the Danish championship and did the Double, as the cup tournament also went to 'Titletown Copenhagen'.
Celebrating in front of a huge crowd at Frederiksberg Town Hall, the players can look forward to an exciting new season coming up soon, including Champions League qualification.
But they will have to do it without inspirational captain Carlos Zeca, who will return to Greece after the summer break. Other key players, such as Mohamed Daramy (back to Ajax), are also expected to leave.
The Lions are expected to have a very busy transfer window this summer. And given that FC Midtjylland and Brøndby will invest heavily as well to challenge for the title next season, the summer break looks to be an exciting time for clubs and pundits alike.
Back after 26 years
Exciting times are also to be found in Hvidovre, a local side from the western suburbs of Copenhagen. Thanks to a last-minute goal, the unremarkable outfit secured a 3-2 victory over Vendsyssel and a place in the top flight next season.
It is a huge surprise, as Hvidovre does not have much money. The players are not professionals and only practise in the afternoon after they finish work or studies.
The stadium is not equipped for top flight football, and the red-blue team will be labelled massive underdogs in the Superliga.
However, Hvidovre produced the most goals in all ranks this season. They can be an entertaining side, and especially the derbies against FCK and Brøndby will be matches worth watching.
In those matches, everyone else in Denmark will root for the minnows. Hvidovre was a heavyweight in Danish football decades ago, but have not been in the Superliga since 1997.