News
Ellemann-Jensen under pressure over rushed Israeli arms deal
---
Questions are being asked about the role of the Venstre leader, who remains on stress leave until August, in a rushed sale to an Israeli arms manufacturer in January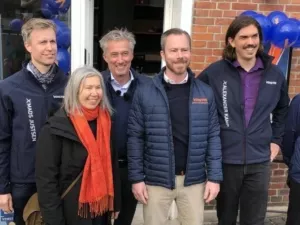 Troels Lund Poulsen and Jakob Ellemann-Jensen are both prominent members of Venstre, the party the latter leads.
They are also the acting and official defence minister – Ellemann-Jensen recently confirmed he would resume his duties in August following lengthy stress leave.
In his absence, Poulsen has co-led the party with Stephanie Lose, the economy minister.
But now it would appear that party loyalty has been cast aside in favour of public interest, as Poulsen has red-flagged an arms purchase made during his predecessor's watch.
Just two hours to approve
In January, Ellemann-Jensen informed Parliament's Finance Committee there was a tight deadline to approve a 1.74 billion kroner purchase of Israeli weapons.
The deal was quickly approved after the committee were given just two hours to make up their minds.
However, late last week, Altinget reported that Ellemann-Jensen misinformed Parliament as the deadline set by Israeli arms manufacturer Elbit Systems was the end of June.
If this is the case, a law professor contends that Ellemann-Jensen broke the law.
Poulsen: My name is not Jakob Ellemann-Jensen
Poulsen yesterday responded to the revelations by demanding an official report on the matter.
"It is important to distinguish between me and Jakob Ellemann-Jensen. I am not Jakob Ellemann; I am Troels Lund Poulsen," he told the assembled press at a conference to announce a proposal to spend 143 billion kroner over the next decade on defence.
"Some questions have been raised on the basis of Altinget's articles, and therefore I have decided that when I meet with the defence conciliation circle later today, I will ask them, on the basis of having been summoned for consultation, for an explanation so that we can describe the process."
Ministerial consultation likely too
Already Danmarksdemokraterne has called for a ministerial consultation, which Ellemann-Jensen would chair should it take place after the summer break.
Political commentators are already drawing comparisons with Minkgate – an inquiry Ellemann-Jensen loudly called for as leader of the Opposition.
"We lack an answer as to where the erroneous information about the offer's expiry date comes from – Ellemann-Jensen himself or the Armed Forces," questioned an Altinget analysis.
"Paradoxically – and perhaps very telling of the rushed life on Slotsholmen, as this case also testifies to – Ellemann-Jensen reported a stress illness a few weeks later."