News
Government reaches historic offshore wind energy agreement
---
Deal is the biggest of its kind in Danish history and could potentially end up powering 14 million homes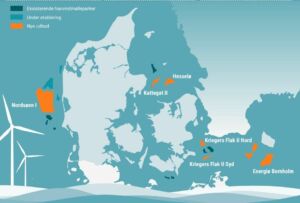 Teaming up with a long line of opposition parties, the government has secured the framework for the biggest offshore wind energy project in Danish history.
The historic agreement could potentially see Denmark's capacity skyrocket by initially 9 gigawatts and could potentially be further expanded to 14 gigawatts – enough energy to power 14 million homes.
In contrast, the country's current offshore wind energy capacity is currently 2.3 gigawatts.
"The deal makes Denmark greener. When the turbines spin, we can cover all our electricity consumption and even contribute to Europe's green transition and supply security," said the energy minister, Lars Aagaard.
The turbines set to produce at least 9 gigawatts are expected to be installed and ready for use by 2030.
READ ALSO: Documentary prompts government to improve offshore energy security
A first for state ownership
Aside from the sheer GW capacity of the project, the deal also raises eyebrows as it will be the first time that the state will be co-owners of a wind energy project.
Critics have suggested that state ownership could end up complicating rules and delaying the tender process.
The framework for the deal relates to the ongoing 'Energiø Bornholm' ('Energy Island Bornholm') project and new offshore wind projects due to be established in the North Sea, the Kattegat, Hesselø and Kriegers Flak.
As part of the agreement, a 500 million kroner fund has been established to help the ocean environment recover in areas that will experience development.