News
SAS selling tickets for maiden electric flights in 2028
---
Another huge quarterly loss manages to take off most of the gloss of the announcement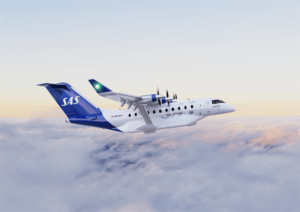 Fingers at the ready, preparing for take-off. At noon tomorrow, tickets will go on sale for three very special flights … departing in 2028.
No, it's not space tourism nor the return of Concorde, rather the launch of SAS's first electric passenger plane, the ES-30.
The lucky passengers who grab one of the 90 seats up for sale won't know where they're heading, although they are guaranteed the three flights will depart from Sweden, Norway and Denmark – to a destination not further than 200 km away.
They are also assured they will be a part of history.
Option for 30 planes
The flights will be the result of a deal signed with Swedish company Heart Aerospace last September, which gave the Scandinavian airline the option of adding up to 30 electric aircraft to its fleet.
According to Anko van der Werff, the CEO of SAS, the ticket offer is true to the pioneering spirit of the airline.
"It is a natural continuation of this pioneering spirit that we now invite our passengers to the next major milestone in the future of aviation, and it is a significant step on our journey towards more sustainable aviation," he told Checkin.dk.
The flights cost 1,946 kroner each – a homage to 1946, the year in which SAS was launched.
Another huge loss
However, question marks remain whether SAS will still be around in 2028.
This morning the airline has announced a net loss of around 980 million Danish kroner for the second quarter of its 2022-23 fiscal year.
The loss is more or less the same as the one confirmed for the three months ending 30 April 2022, despite an increase in revenue of around 1.3 billion kroner compared to last year and a 36 percent increase in passengers.