News
Løkke rues PM's NATO ambition
---
In a rare personal statement, the foreign minister, Lars Løkke Rasmussen, expresses frustration that Mette Frederiksen may leave the government in favour of becoming head of NATO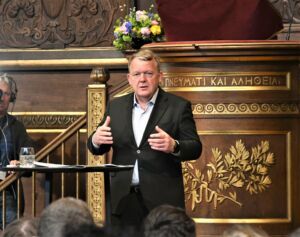 From July 11-12, the NATO leaders are meeting for a highly anticipated summit in Lithuania.
Yesterday, PM Mette Frederiksen attended a summit with other government leaders in Moldova. And on Monday, she will visit US President Joe Biden at the White House.
Rumours of her candidacy to take over as secretary-general of NATO from Jens Stoltenberg are accordingly increasing.
Broken code of silence
Under these circumstances you tend to hear several standard phrases. Frederiksen daily voices she is not looking for a new job and refrains from speculation.
It is normal procedure that no-one in the government makes a statement about the speculation.
However, the foreign minister, Lars Løkke Rasmussen, has now broken that code of silence – and it's quite remarkable he has done that. As the head of all Danish diplomacy, it is assumed he knows best how to work behind the scenes to promote Danes to foreign positions.
Journey had just begun
Most surprisingly, he warns his own boss and co-creator of the government against taking the job.
"We had elections only half a year ago. And we have started a completely new political project in Denmark, which is also largely personal in the sense that it rests on the fact that I founded a new party with the raison d'etre we had to create a new structure in Danish politics, and that Mette Frederiksen, when the election was called, put her own persona into it," Løkke told TV2.
"The journey has just begun. So, that, I think, raises a lot of questions. It is not someone I have to answer to."
Now it is about somebody
It is difficult to interpret this in any other way than Løkke thinking Frederiksen is exiting prematurely from their shared goal.
Løkke's position is the opposite of his mantra leading up to the election that "it should be about something, not about someone".
But it is a fact that Løkke's work for a central government and Mette Frederiksen opting out of the red bloc created the foundation for the current government.
Dramatic month ahead
Although the Danish Parliament goes on its summer break this week, it will be a dramatic lead-up to the NATO summit in July, even if Frederiksen continues to play it cool with her insistence she is not a candidate.
The position of NATO general-secretary is a complicated one that the public rarely gets much insight into – ultimately, it is assumed, the largest NATO countries tend to have the biggest chips at the table.
Frederiksen has taken her foreign minister's statement in stride and said "everyone is free to deal with rumours". She believes that Løkke's statements are an expression of "continued support for government co-operation".