News
Inside Danish Sport: Top dogs loading their guns in Paris
---
ANALYSIS: Among them is Holger Rune who could make the final if he brings his best game to the French Open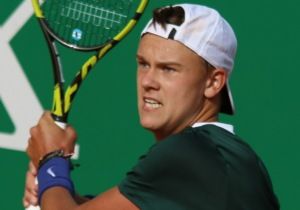 The clay court season reaches its climax this week when tennis' brightest stars face each other in the year's second Grand Slam tournament, the French Open in Paris.
Today, Holger Rune faces Argentine clay specialist Francisco Cerundolo in the round of 16. The 20-year-old Dane is number six in the world – a ranking that has raised expectations of the youngster's chances in the Danish media.
Rune's first week was uneventful. First, a slightly scrappy victory in four sets against US player Christopher Eubanks. Next, a walkover after France's Gaël Monfils retired. And then on Saturday a crushingly safe victory came against world number 231, Argentina's Genaro Olivieri.
Rune has not really been tested. He will be now. Cerundolo thrives on clay, he is used to clay's long rallies and he is in prime form. He reached the final in Lyon just before the French Open and beat US star Taylor Fritz in the third round.
Road ahead will only get tougher
If Rune gets past this big hurdle, Norwegian number one Casper Ruud is his most likely opponents. It's a potentially intriguing match-up since the two met in the quarter-finals last year. Then, Ruud won somewhat comfortably and reached the final, where he lost to Rafael Nadal.
In the semi-finals in Rome a couple of weeks ago, Rune beat Ruud for the first time. It will give him confidence if that match comes up.
Should Rune again endure, he will benefit from Daniil Medvedev, his victor in Rome, being out of the tournament. Germany's Alexander Zverev looks like the best bet in a possible semi-final. If so, it will also be a daunting challenge.
In the other part of the draw, the two favourites in the betting are on course for a juicy semi-final: Carlos Alcaraz and Novak Djokovic. Both have advanced to the quarter-finals, where Stefanos Tsitsipas awaits Alacaraz in what will be a promising match-up, while Russia's Karen Khachanov will probably be anything but a bump for the 22-time Grand Slam winner Djokovic in their meeting.
The time has come for the world's best to bring their best.
Tauson is back
For the women, it looks like an expected final showdown between world number 1 and 2, Poland's Iga Swiatek and Belarussian slugger Aryna Sabalenka.
Danish player Clara Tauson, meanwhile, reached the third round after coming through qualifying. The 20-year-old with the powerful forehand had a terrible 2022 as injuries sent her well outside the top-100 – she no longer had money for a coach.
In Paris, she won 1 million kroner, so she can now widely travel around the tour with a permanent Spanish coach.
Although Tauson still fluctuates a lot from match to match – in her eventual defeat, she made eight unforced errors in the final two games to lost 5-7 in the deciding set – she's the happiest she's been on court for a long time. Danes can look forward to the Hopman Cup in July, where Rune and Tauson will play together for the first time ever.
It is not a bad combination, and the two can create many memorable moments in the coming years for Danish tennis fans. Rune looks a likely favourite to become Danish sports name of the year for 2023, although there is always Jonas Vingegaard who will put up a strong defence of his Tour de France title.
More on that after Paris and Wimbledon, which is also coming soon. In London expectations for Rune are limited, as he has never seemed comfortable on the fast grass surface.