News
PM at White House today: NATO assurances and fighter jet pledges top of the agenda
---
White House insider tells Guardian newspaper that US President Joe Biden's top priority is getting the F-16s into Ukrainian hands – and that Denmark can play a key role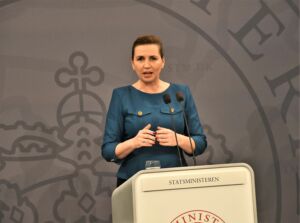 Ahead of her meeting with US President Joe Biden at the White House today, Danish PM Mette Frederiksen has underscored that "American attention to Denmark" is important.
"After all, we are the small party in this relationship," she said in an interview with TV2, .
"The most important thing is to say that Denmark believes in the transatlantic alliance," she added at a press conference before her departure, where she again refused to comment on speculation she might become the next head of NATO.
Nevertheless, the speculation continues that she is a top contender. Italian newspaper La Stampa has called her the "favourite to lead NATO", with Estonian PM Kaja Kallas second most likely.
White House insider: F-16 jets a top priority
Meanwhile, British newspaper The Guardian reports that Biden's biggest priority at the meeting – and then at his summit with British PM Rishi Sunak on Tuesday – will be providing Ukraine with F-16 fighter jets.
"One of the things we'll be looking for their perspectives on and the president will be interested in sharing his perspectives on is the long-term security needs of Ukraine," White House national security council spokesperson John Kirby told the British newspaper.
"That's really where the F-16s kind of come into this discussion."
Praise for both US and Biden
At her press conference, Frederiksen outlined her objectives and voiced her admiration for the US and Biden.
"It is largely thanks to the Americans that there is peace, freedom and democracy in Europe," she said.
"Biden is doing a fantastic job, which we especially experience on the international stage with massive support for Ukraine, and we see an American president taking the United States back in the climate fight."
Frederiksen's visit is the first by a Danish PM since Lars Løkke Rasmussen met Donald Trump in 2017.
Criticism of European bureaucracy
Referring to Biden's recent 2,600 billion kroner climate package, she did not blame the US president for making it more attractive to be a green company in the US than in Europe.
"We should not blame the Americans for having found a way to quickly move forward with the green transition," she said.
"Instead, we could use the opportunity to speed things up at home, because it is one of Europe's problems that we tend to over-bureaucratise things. It is difficult to get wind turbines installed in Europe."
Visiting Greenland too
Perhaps fittingly, Jyllands-Posten questions today whether Frederiksen's extensive air travel somewhat contradicts her profile as the PM of a 'green superpower' – although on this occasion, she is killing two birds with one stone.
On Tuesday, she will visit the Greenlandic capital of Nuuk on her way home, where a demonstration is planned at the way Denmark has treated Greenland over two matters.
Firstly, there is the enforced placement of IUD spiral contraception in Greenlandic women in the 1960s and 70s – into which Denmark recently launched an official investigation.
And secondly, there is the way a 'fatherless generation' was created by a Danish-enforced law that prevented Greenlandic children born out of wedlock to discover the identity of their father. A compensation claim has been launched by 26 Greenlanders in connection with the law, which was finally repealed in 1974.