News
This Week in Copenhagen: Food and wine in the spotlight
---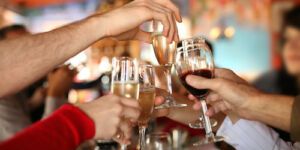 À Terre – Francis Cardenau
June 11, 15:00; À Terre, Tordenskjoldsgade 11, Cph K; 1,500kr; lifepeaks.dk
Chef Francis Cardenau will join chef Yves Le Lay for a one-day-only pop-up meal. Together, they will create a seven-course meal served as a leisurely lunch.
Raw Wine Copenhagen
June 11, 10:00-18:00; The Plant Cph, Raffinaderivej 22, Cph S; 1,500kr; 190-340kr; rawwine.com
The world's biggest natural wine fair is coming to Copenhagen. Star winemakers and 200 producers will be present.
Ventures & Wine Café
June 8, 17:00-20:00; Symbion Fruebjergvej 3 Fruebjergvej, Cph N; free adm; symbion.dk
At this event, well-known professor and entrepreneur Morten Sommer will share not only his experience in the academic and start-up environment, but also offer personal reflections and insights on choosing the right path in life.
For news of other events coming up in the Copenhagen area, check out the new Copenhagen Post calendar here.
Tuesday Foodclub
Every Tuesday, 15:00-20:00; Korsgade 19, Cph N; donation around 30kr; Kafa-x
Kafa-x is a food club made up of volunteers where people can socialise around cooking and eating together. The food is vegan and made from donated leftover veggies from a local green-grocer. People can eat for free by arriving earlier and helping with the preparation or clean-up afterwards.
Spaces of Dignity
June 1-August 10, Tue to Sun, 12:00-18:00; Ukraine House, Strandgade 27B, Cph K; free adm; cafx.dk
Can architecture heal the wounds of war – physically as well as mentally? And how can temporary housing for refugees shelter not only the bodies, but also the souls, memories and precious mementos? How can clearing up the rubble create and recreate the social structures of a war-torn society? With this pensive exhibition Ukraine House displays a thoughtful glimpse into Ukrainian response to the brutal effects of a terrifying Russian aggression.
Green Impact Week
June 6, 09:00-17:00; Volume, Enghavevej 80, Cph V; free adm; Sustainary
Over the past four years, Green Impact Week has become the flagship event for sustainable innovation and entrepreneurship in Denmark and beyond. From engaging workshops to inspiring talks and networking opportunities, we've seen the power of collaboration and innovation firsthand.
The Last Supper 2.0
June 8, 17:00-19:30; Hotel Cecil, Niels Hemmingsens Gade 10, Cph K; free adm; The Last Supper
A panel debate for exploring questions regarding AI with some of the most profound thought leaders in AI in Copenhagen.
For news of other events coming up in the Copenhagen area, check out the new Copenhagen Post calendar here.
Here For The Ride
June 11, 10:30-12:30; Dronning Louises Bro, Cph K; free adm; eventbitre.com
A community of bikers who just love getting out there and going for a ride with others. This group is about exercise, fresh air, and exploring new areas and not racing, minimum average speeds or leaving anyone behind. Everyone is welcome and only a bike is needed.
Fintech Summer Party 2023
June 9, 16:00-21:00; Copenhagen FinTech Lab, Applebys Plads 7, Cph K; free adm; Copenhagen Fintech
Annual summer party in Christianhavn with barbeque, drinks, games by the garden areas and, depending on the weather, water activities.
Derti Band
June 10, 21:00; Christiania Jazz Club & Børneteater, Psyak 61A, Cph K; christianiajazzclub.com
Derti Band is a Greek folklore band mainly influenced by the country's Rebetiko song culture. The event is cash only.
Language Cafe – Spring Semester 2023
Every Saturday from June 10, 15:30-18:00; Studenterhuset, Købmagergade 52, Cph K; free adm, Studenterhuset
An afternoon full of language and good conversations. Each time an updated list of languages is posted on the Facebook page.
Salsa Libre Outdoors Salsa in Fælledparken
June 9, 18:00-22:00; Dansepladsen, Fælledparken, Cph Ø; free adm; Dansepladsen
An intro class in salsa for beginners will be followed by DJs delivering different music styles like Salsa, Bachata, Merengue, Reggaeton, Cuban Rueda De Casino, and much more.
Brass & Beats night with The Pølse Horns
June 9, 22:00-3:00; Operaen Christiania, Pusher Street 1, Cph K; 80kr (cash only); Operaen Christiania
In 2020 a group of DTU students from all over the world got together with the aim of playing nice music together and having fun. The brass band party will be followed by a great DJ set by Montaña DJ and Algorytmen with house, ska jazz, dub etc.
West Coast Swing Course
Every Tuesday from June 6, 19:00-22:00; Øster Farimagsgade 40, Cph Ø; 150-550kr; WCS Spring Course
This course is for people that have already tried a bit of WCS or already can dance another social dance. It is possible to stay and rehearse all the moves learned after the workshop.
Summer Madness
June 10, 22:00-04:00; Play Club, Gammeltorv 8, Cph K; 200kr; OfficialKevents
Two floors of music: hip-hop & RnB & latin and K-pop & K-hiphop & K-edm. Play is an elegant nightclub with huge dancefloors and instagrammable spots.
Beach Party At Halvandet 2023
June 10, 15:00; Halvandet, Refshalevej 325, Cph K; 110kr; halvandet.dk
Halvandet has been voted by the Sunday Times as among the 10 best beach parties in Europe! The Danish summer will be filled with the Full Moon party, Tulum and music from the decades.
Swap Language Nights
June 5, 19:00-22:00; Generator Copenhagen, Adelgade 5, CPH K, free adm; swaplanguage
What better way to learn a language than over a drink with a local? An event for exploring the Danish language like a native.
No Stress English Comedy Open Mic
June 7, 20:00-22:00; No Stress Bar, Nørregade 26, Cph K; 35kr; meetup.com
Featuring some of the biggest names in Danish and international comedy as well as up-and-comers. Open mic means that comedians will try out new jokes for the first time – and sometimes also for the last.
CPH Collage – 26
June 11, 18:00-20:00; Mellemrummet, Ravnsborggade 11, Cph N; free adm; theweirdshow
The goal of the meetup is to experiment with collage, exploring different ways of creating images with the use of scissors and glue. These sessions are not a class but rather a community gathering. Everyone is free to do fewer or more collages as wished, the triggers and frameworks are only a reference.
Members Choice: Think Again by Adam M. Grant
June 10, 14:00-16:00; Botanical Garden, Gothersgade 128, Cph K; free adm; personal growth book-club
The personal growth book-club will talk about 'Think Again' – a book about the benefit of doubt and how we can get better at embracing the unknown and the joy of being wrong.
The angel makers
June 9, 17:30-19:30; TBD, Rådhuspladsen, Cph K; free adm; the books booze club
The program is to solve a murder mystery of 42 men in the early 20th century. The chosen book this time is 'The Angel Makers' by Patti McCracken. If the weather is good, the event will take place in a park.
Saturday morning Run
Every Saturday until July 1, 10, 07:00-7:45; Rosenørns Alle, Frederiksberg; free adm; Running for beginners
Run around the Lakes. Running and walking mix, average speed 8m30s per km. Registration is required by Friday 20:00.
For news of other events coming up in the Copenhagen area, check out the new Copenhagen Post calendar here.