Things to do
Finally a chance to see the Julian Assange doc: Denmark's waited longer than Odysseus's dog
---
Two years after the release of 'Ithaka', audiences will be able to watch the documentary at Grand Teatret on June 7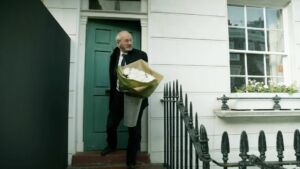 Despite being completed in 2021, Ben Lawrence's documentary 'Ithaka', which recounts the odyssey of Wikileaks founder Julian Assange's father John Shipton to fight for his son's freedom, has not been released in Denmark … until now.
Thanks to the efforts of Why Not Theatre Company's resident director Nina Larissa Bassett, in collaboration with Dansk PEN, the film will be shown at Grand Teatret at 19:00 on Wednesday June 7.
Tickets cost 90 kroner.
Attending the after-talk
Odyssey is an apt description of both Shipton's campaign, and the journey of the documentary since its release, as the island of Ithaca was the home island of Greek hero Odysseus, whose mazy return after the Trojan War took 10 years to complete.
Following the English-language film, the audience is invited to stay behind for a 30-minute aftertalk featuring the film's Danish director of cinematography, Niels Ladefoged, and Mille Rode from Dansk Pen.
A divisive figure, but why?
Bassett tells CPH POST it will be a good opportunity to discuss some of the issues raised by the documentary: not least why the imprisoned but unconvicted Assange continues to be such a divisive figure, even though very few people comprehend the crimes he could be tried for should he be extradited from the UK to the US.
"Understandably, he is a controversial figure, and there are many stories surrounding him, making it difficult to decide if Assange is one of ' the good guys' or 'the bad guys'," she said.
"We could spend hours debunking most of the accusations made against him, but this is not really the relevant question."
Dangerous precedent
After all, reasons Bassett, so many of the big tech issues Assange warned about have come true, namely the "ideological fight to control the narrative and thereby the people – a fight that weaponises the internet and where truth and nuanced debate has ceased to matter. Among the hostages we find the media, journalists and publishers."
Take the media, Bassett argues. Should Assange be extradited, surely it will set a precedent.
"Any journalist or writer who speaks out against a certain ruling narrative could be prosecuted in a foreign country and judged by their laws. Think about that one for a minute. It will allow for a dystopian future that I feel we must resist," she warns.