News
Has the White House made a campaign video for PM's bid to become head of NATO?
---
TV2's US correspondent claims there are "indications" the US is keen on Mette Frederiksen taking the top job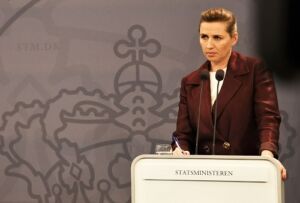 TV2's correspondent in the US contends that a video released by the White House documenting Mette Frederiksen's visit to meet US President Joe Biden on Monday indicates the country is backing the Danish PM to be the next general-secretary of NATO.
"I think there are indications that the USA has now started a definite campaign to make Mette Frederiksen the next NATO Secretary General," remarked Jesper Steinmetz, who says such a video to mark the visit of a dignitary is unusual.
The video, which has been seen close to a million times, is mostly focused on matters relating to NATO. Some 30 of its 52-second running time is dedicated to comments about the War in Ukraine, security and Russian aggression.
At one point, the words "Mette Frederiksen, Prime Minister of Denmark" are displayed across the screen in capitals.
"Frederiksen is really being elevated to a presidential level where she is sitting and talking to Joe Biden. It can well be interpreted as a campaign video," concluded Steinmetz.
Clamour for election growing
Meanwhile, both red and blue bloc parties are calling for a general election should Frederiksen step down as PM, reports Berlingske today.
Don't leave it to the "Socialdemokratiet coffee clubs to decide who will be Denmark's next PM" would appear to be the consensus among certain parties, reports the newspaper.
Among them is SF, one of the last parties to be squeezed out of the post-election negotiations in December, which is currently riding high in the polls at just under 14 percent as the country's second most popular party. 
Currently polling at 23 percent, Socialdemokratiet, meanwhile, has slid over five percentage points since the general election.
"I can see that Lars Løkke believes that if the Prime Minister becomes NATO Secretary General, the government must be reconfirmed. I think we should leave that reconfirmation to the voters," SF leader Pia Olsen Dyhr wrote on Twitter.