News
Two more years: Danish national coach extends contract
---
Kasper Hjulmand and the Danish football association have extended their working arrangement until 2026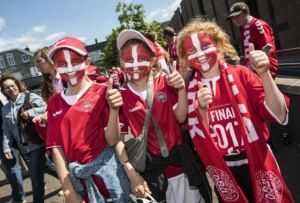 Following speculation over whether he would leave his seat, DBU, the Danish football association, has extended the contract of the national coach Kasper Hjulmand.
According to a press release, Hjulmand and DBU have agreed to extend the ongoing contract by two years, meaning that it now runs up to and including the World Cup in USA, Mexico and Canada in 2026.
"It has been a great pleasure to work with these players for the past three years and experience the development and the bond that has been created between them and the Danish fans," Hjulmand said.
Success and disappointment
Hjulmand as national coach has overseen 38 games since the summer of 2020, achieving 23 wins, 3 draws and 12 defeats.
During that period, Denmark reached the semi-finals of the European Championship finals in 2021 and performed creditably against Europe's top football nations in the the top tier of the UEFA Nations League with victories over the likes of England and France.
But the World Cup in Qatar last year was a great disappointment, sparking off speculation that Hjulmand could leave his position.
This speculation has now come to an end, and DBU's director of football, Peter Møller, is "very happy about the extension".
Møller looking forward to Hjulmand ensuring "that the national team develops".
"We can create highlights and moments that the Danes will remember for many years to come," he said.
Important years ahead
With the extension of the contract Hjulmand will be in charge of the team when the Nations League's Group A fixtures start in September 2024 and then when 2006 World Cup qualification starts in March 2025.
"We have some important years ahead of us, and I am motivated to achieve even more with the national team and give Danish fans more great experiences. I want to continue being a part of developing Danish football in close co-operation with clubs, associations and everyone at DBU," Hjulmand said.
The men's national team is currently aiming to qualify for Euro 2024 in Germany and will face Northern Ireland on June 16 and Slovenia on June 19 next.
Hummel, the Danish sports brand behind the legendary '86 jersey, is turning 100 years old this year.
To celebrate the anniversary, DBU and hummel are relaunching the iconic jersey, which will be worn by the Danish players against Northern Ireland.
---
SQUAD FOR JUNE FIXTURES:
Hjulmand has named 25 players for the matches against Northern Ireland and Slovenia. Two of them will leave the squad a few days before the first fixture.
Goalkeepers: Kasper Schmeichel, Frederik Rønnow, Mads Hermansen
Defenders: Joakim Mæhle, Jens Stryger Larsen, Victor Nelsson, Andreas Christensen, Simon Kjær, Mathias 'Zanka' Jørgensen, Joachim Andersen, Alexander Bah, Rasmus Nissen Kristensen
Midfielders: Christian Eriksen, Philip Billing, Pierre Emile Højbjerg, Morten Hjulmand, Mikkel Damsgaard, Mathias Jensen
Strikers: Martin Braithwaite, Mohamed Daramy, Yussuf Poulsen, Rasmus Højlund, Jonas Wind, Andreas Skov Olsen, Jesper Lindstrøm