News
For three days, the pearl of the Baltic Sea steals the country's attention
---
From Thursday to Saturday, the cosy fishing village of Allinge on Bornholm will once again provide the setting for the 'People's Meeting'. The Danes have copied a Swedish idea, and it has become very popular. Politicians, media, NGOs, business leaders and ordinary people meet, debate and network long into the short summer nights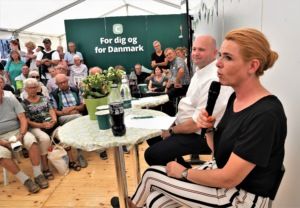 If you are there, you think it is the best event in the world. You can mingle with a minister, eat next to a celebrity and in the bar meet former colleagues or schoolmates whilst enjoying the cosy, quiet Scandinavian nature of Bornholm.
If you're not there – like most people – it's hard to understand why the academic elite go berserk. Like many, you laugh when the elite 'rund wild': whether it's putting on a hat or ditching the tie. However, there's something refreshing about the way TV hosts cut loose when they leave the confines of their studio and the debaters become a little more lenient towards one another compared to the rest of the year.
The perfect place to host it
Both perceptions are true. In the end the beautiful and charming island of Bornholm is the winner. Danes have a special place in their heart for the island.
Not only was it occupied longer during World War II (by the Russians until 1946) than anywhere else in the country, but the Bornholmers have a slightly sing-song dialect that is particularly charming.
Bornholm is closer to Sweden than Denmark, and the island has for many, many years been a popular holiday choice for millions of Danes, as well as a well-trodden excursion destination for school classes.
100,000 guests over three days
When it was decided in 2011 that Denmark should have a 'folkemøde' just like the Swedish one, Bornholm was an obvious choice. For one, Bornholm is an island like Gotland, the host of the Swedish version. Second, it makes sense to support and recognise a part of Denmark that most people don't think about in everyday life.
Every year the island is turned upside down, because as the years have passed, it has evolved into an enormous public gathering for the locals to take on. During COVID-19, it was cancelled in 2020 and held to a modest extent in 2021.
Last year, Folkemødet was back at full capacity with a total of 100,000 participants spread over the three days. The same number is expected this year, exerting untold pressure on the area around Allinge, the small fishing village on the northwest side of the island, to provide rental properties and solutions to potential logistical nightmares.
This year Folkemødet offers more than 2,800 events on 200 stages over the three days. It officially opens on Thursday morning at 11:00 on the Main Stage and ends with a big concert on Saturday evening.
Truly a people's festival
At Folkemødet, everyone is both an organiser and a contributor.
"Folkemødet is created in co-operation with political parties, grass roots and different associations and companies," the festival explains on its website.
"Everyone contributes with interesting debates, presentations, cultural events, speeches, workshops and much more. At Folkemødet we find the solutions to the challenges of our joint society and get inspired by one another."
If that grabs your attention, read more here.