News
It's raining Michelin stars on Danish gastronomy
---
Denmark received 45 stars distributed to 32 restaurants when the Michelin Guide awarded this year's stars. It attracts foreign tourists, who gladly visit remote parts of the country to experience fine cuisine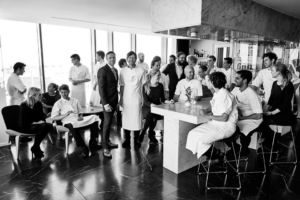 Danish gastronomy belongs among the world's elite. This is clear after Michelin sprinkled 45 stars on a total of 32 Danish restaurants on Monday evening.
See the list of Michelin restaurants in Denmark here.
Industry: Stars just reward for effort
It is not only in the big cities that you can experience the highest standards of cooking. The industry organisation HORESTA has put great effort into expanding the Michelin map in Denmark outside the capital.
With the recent announcement of Michelin stars for 2023, the effort has paid off. And Pia E Voss, the managing director of HORESTA, is pleased about that.
"It is incredibly gratifying that even more restaurants across the country have come under the Michelin spotlight," said Voss.
"North, west, and south of the capital, there are many exciting dining experiences at a very high, gastronomic level. They must be seen and recognised in the same way as the restaurants in the capital."
Great gastronomy good for tourism
Denmark's top spot on the gastronomic ladder doesn't go unnoticed. A report from VisitDenmark shows there has been a large increase in the number of tourists who choose to come to Denmark because of the gastronomic offers.
From 2017 to 2022, the number of foreign gastro-tourists in Denmark increased by 49 percent to 1.9 million a year.
It is especially the number of gastro-tourists outside the big cities that has increased. Gastro-tourists have a relatively higher willingness to recommend Denmark as a destination.
VisitDenmark's definition of a gastro-tourist is somebody "where food experiences/eating out/gastronomy have had a decisive or high importance for them choosing to take a holiday in Denmark. Food is thus a conscious travel motive for the gastro-tourists".
Attracting Norwegians, Germans and Brits
It is especially Norwegians, Germans and Brits who cite food experiences as a good reason for choosing a holiday in Denmark.
Close to half (45 percent) of Norwegians answer that food experiences determined their reason for travelling to Denmark to a high or decisive degree, and the same applies to 38 percent of Germans and Brits.
The number of Michelin star restaurants is important for Denmark's image as a gastro destination – and therefore they are important for Danish tourism.
"Danes are proud of what the Danish chefs can achieve, but we must also remember to recognise them for improving Denmark's gastronomic image abroad," said VisitDenmark communications manager Anders Rosbo.
"Their efforts and Michelin stars are undoubtedly of great importance to Denmark's general image as a gastronomic destination and therefore to tourists' choice of destination."