News
Mette bets a bottle of wine against becoming next NATO head, even though she's odds-on with the bookies
---
Danish PM this morning staked a good French red she'd be premier at the end of the summer, but punters are confident she'll land the top job and succeed Jens Stoltenberg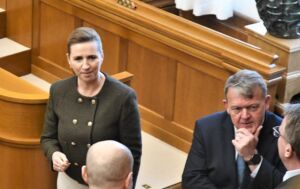 What a difference a week makes! On June 7, the bookmaker Bet 25 started betting on who will become the next head of NATO. At that point, Mette Frederiksen was listed at 5/1 – the joint second favourite behind the British defence minister, Ben Wallace.
Today, the Danish PM is odds-on to become the next general-secretary of NATO: a clear 1/2 favourite (1.5 in digital terms). Wallace, meanwhile, has been pushed out to 17/4 (5.25).
At the time of writing, CPH POST could not find any other bookmakers offering a market, but the swing certainly suggests that either Bet 25 has been hit by multiple bets on Frederiksen, or it was advised to rethink its outlook.
Certainly, Bet 25 has not been put off by a recent report in the Wall Street Journal that Poland will oppose Frederiksen's selection and instead favour Estonian PM Kaja Kallas.
Poland's ambassador to Denmark, Antoni Falkowski, was quick to take to Twitter yesterday evening to refute the report. "Poland is not against any potential candidates," he wrote.
Stoltenberg reiterates intention to not seek extension
To accede to the position that Frederiksen continues to deny any interest in, there must be a vacancy to fill, and the incumbent Jens Stoltenberg was yesterday pressed by TV2 to confirm whether there's any chance he will continue once his term expires on September 30.
Initially, he appeared to offer a carrot to the eager rabbit with the admission his future lies in the hands of the 31 NATO countries, who will at their summit from July 10-11 in Lithuania elect a general-secretary.
According to the Financial Times, several countries have said they would like to see Stoltenberg continue.
But Stoltenberg yesterday clarified: "I have no intention of seeking an extension."
Bookmakers should accordingly classify him as a non-runner, but if there is a chink of light, it's that Bet 25 is specifically betting on who will succeed Stoltenberg.
Mette Bets: Frederiksen opening her own bookmaker chain
TV2 correspondent Lotte Mejlhede, who pressed Stoltenberg for the comments at a press conference in Brussels yesterday, was not convinced by Stoltenberg's protestation that he has no influence on his own future.
"Of course he has. If he doesn't want an extension, he can just say straight: I don't want that under any circumstances," she said.
One of the 31 NATO countries has already said it would support an extension to his contract: Denmark!
Frederiksen today welcomed the possibility as a "good solution" when she was asked at the ongoing Folkemødet politics festival on Bornholm.
"Stoltenberg has been excellent at the head of NATIO for many years, and also during a very dramatic time. And I think that is largely Stoltenberg's merit, so if we can get him to continue, I think it is a really, really good solution," she said.
"No, I'm not on my way to NATO," she reiterated and, staying with the betting theme, bet her interviewer, Stéphanie Surrugue, a bottle of good French red wine that she would still be Danish PM at the end of the summer.
If not Frederiksen or Stoltenberg …
But who will become NATO head if not Frederiksen or Stoltenberg?
According to Bet 25, after Wallace, the aforementioned Estonian PM Kaja Kallas is 23/2 alongside Dutch PM Mark Rutte.
Lithuanian PM Ingrida Šimonytė is 14/1, EU Commission head Ursula von der Leyen and Slovakian President Zuzana Čaputová both 19/1, and Chrystia Freeland, the Canadian finance minister, 49/1.
The Financial Times identifies the most favoured candidate as being female and from eastern Europe. Certainly, the last two general-secretaries have all been Scandinavian, so Frederiksen would make it three in a row.
But nevertheless, her chances of becoming NATO general-secretary are as probable as Manchester City winning a trophy next season.