Things to do
HOT IN TOWN: Blooming marvelous at guest restaurant Lafleur
---
Don't know what to do? Here's this week's Hot in Town overview. For more inspiration go to The Copenhagen Post calendar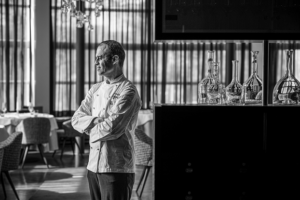 RESTAURANT: Lafleur
Mostly vegan and vegetarian, this pop-up restaurant also offers dishes that include veal and lobster. The team from the Frankfurt eatery Lafleur can be at the Japanese Tower at Tivoli until July 4. The menu is characterised by strong and aromatic sauces and essences that form the soul of the dishes – sometimes fruity, intense or powerful. Politiken's reviewer gives it five hearts.
CONCERT: Arthus Fochi
Experience the rich and vibrant sounds of Arthus Fochi's latest vinyl album, 'Ano Sabático', as he takes you on a captivating musical journey through South American rhythms. On June 28 at 20:00 at Metronomen, immerse yourself in the fusion of genres and let the heart of Brazilian rhythms transport you on this unforgettable evening of music.
For news of other events coming up in the Copenhagen area, check out the new Copenhagen Post calendar here.
DANCE: Thecarrierbag festival
The festival for dance and choreography is a two-day festival taking place on June 23 & 24 at Fonden Kulturfabrikken, featuring four choreographic works, three interventions, two dinners, a DJ set and everything in between.
ART: Floating Bodies
Galerie Mikael Andersen and curator Jens-Peter Brask are pleased to present 'Floating Bodies' – a group exhibition and cross-section of the current American contemporary art scene, featuring selected works by Amy Bessone, Jane Corrigan, Jackie Gendel, Becky Kolsrud and Ammon Rost. The opening is on Thursday 15 June from 17:00-19:00.
DRINKS: Summer in Jægersborggade
Here is a call-out for the street party 'Summer in Jægersborggade' in the Stefansgade neighbourhood of Nørrebro on Saturday 10 June. Ibyen describes it as Nørrebro's most cosy, hip cobbled street.
FESTIVAL: The Hill Festival'23
Enjoy a music festival at the best rooftop location in Copenhagen: Copenhill, the incinerator famous for his dry ski slope. And to think they said you would never get any après ski action in Copenhagen! From June 15 to 17, engage in three days of dance music provided by international DJs.
TV: Black Mirror
The most popular Netflix sci-fi-ish anthology series is finally back! From this Thursday, the sixth season of Charlie Brooker's series will have five long – certainly fascinating – episodes. Stars confirmed for the new season include Aaron Paul, Zazie Beetz, Salma Hayek and Michael Cera.
FILM: Asteroid City
Set in a fictional American desert town in the 1950s, where students and their parents from all over America have gathered for a Junior Stargazer/Space Cadet conference, Wes Anderson's film will be released at Danish cinemas on June 15. The cast includes Jason Schwartzman, Scarlett Johansson, Tom Hanks and more.
For news of other events coming up in the Copenhagen area, check out the new Copenhagen Post calendar here.