News
Air traffic control deal at Copenhagen Airport saves the Danes' summer holiday plans
---
The prospect of long queues and hours waiting for runway clearance was a national mood-killer, but now the public can look forward to the July break with renewed optimism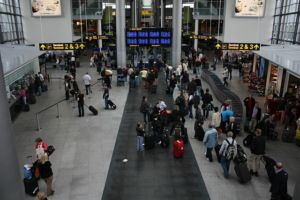 Barely a day has gone by since plane travel increased in the spring without a report about air traffic control problems at Copenhagen Airport.
Amid a staff shortage caused by redundancies made during the pandemic, the specialist workers have been asked to work too many extra shifts.
A solution to bring in extra personnel from Roskilde Airport was hailed as a solution, but made little impact. The workers also want more pay. 
Meanwhile, the airport is running at a reduced capacity due to planned retarmacing work on one of its two main runways.
A summer of chaos beckoned, with many holiday-makers resigned to having to wait hours for their flights – both to their destination and back home again.
Deal is temporary but effective for summer
Well, yesterday brought good news, as the state-run body responsible for air traffic control, Naviair, has reached an agreement with DATCA, the air traffic controllers' union.
The agreement is only a temporary solution, but it should avert the possibility of thousands of delayed flights over the summer – both parties will in due course return to the table to discuss a collective agreement that will be long-term. 
"The agreement supports a normalisation of the handling of air traffic in the Danish airports and the Danish airspace," stated Naviair yesterday.
Mads Kvist Eriksen, the acting managing director of Naviair, chipped in: "With the agreement, it is our clear expectation that we will quickly see a significant reduction in delays caused by Naviair."
According to DR, the average pay of an air traffic controller is 1.2 million kroner a year. It is believed the workers have been seeking significantly more.