Things to do
This Week in Copenhagen: Will Reffen blow the whistle on Sankt Hans Aften?
---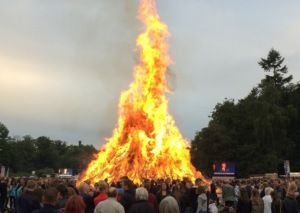 Midsummer Celebration: Sankt Hans Aften
June 23, starts at 16:00; Reffen, Refshalevej 7A, Cph K; free adm; reffen.dk
In celebration of the longest day of the year, Reffen is organising the ultimate Sankt Hans Aften midsummer celebration at the harbour front. A bonfire, lots of food and drinks, and live music can be expected. But it could be weather-permitting as along with several other events scheduled to take place on the same night all over the city, it might be called off due to the high Drought Index. A little rain this week could make all the difference!
Beach Party At Halvandet
Every Saturday, 15:00; Halvandet, Refshalevej 325, Cph K; 175kr; halvandet.dk/beach-party/
Every Saturday between June 24 and August 12 a beach party – voted to be among the ten best in Europe by the Sunday Times – will take place at Copenhagen's most delightful oasis.
GENERATION – The Danish Film School
June 21-25; Den Danske Filmskole; Theodor Christensens Plads, Cph k; 45kr; generationfestival.dk
A new generation of filmmakers present their graduation films at the brand-new film festival GENERATION. The event – organised by The Danish Film School – presents 13 graduation films as well as free concerts and talks. As a prelude to the festival, the graduates' films can be seen at gala premieres in Copenhagen on June 19 and 20 at Grand Teatret and Nordisk Film Biografer Dagmar.
For news of other events coming up in the Copenhagen area, check out the new Copenhagen Post calendar here.
Copenhagen Rosé Festival
June 23-24; The Plant; Raffinaderivej 22, Cph S; 398kr; copenhagenrosefestival
At this two-day festival, it's possible to taste and buy new and old favourites from a variety of exhibitors offering together over 100 different rosé wines. Tickets include ten tokens for tastings, one festival poster and entry to the rosé competition.
Mid-week cider and natural wine tasting
June 21, 17:00-19:00; Århusgade 27, Cph Ø; 150kr; meetup.com
The event will take place at the Bicycle Cidery & Bar, where three different ciders as well as a natural wine can be tasted while being guided through the brewery.
Deer Bodega: Byhaven
June 20, 16:00-00:00; Byhaven – Pumpehuset, Studiestræde 52, Cph V; free adm; pumpehuset.dk
Deer Bodega celebrates the smoky spirit of Danish bodegas by staging a new generation of writers, musicians and DJs. Visitors will get to experience the writer Victor Boy Lindholm, the musician Josie Madonna, and DJs from the collective Future Female Sound.
Thursday on the roof
From June 29, 17:30; Glyptotek's roof terrace, Dante's Square 7, Cph V; 250kr; glyptoteket.dk
Mouth-watering drinks, delicious snacks and changing features can be expected when the Glyptoteket's new season of 'Thursdays on the Roof' starts.
'Red, Gold & Scream' – an exhibition by Boy George
Until July 15; Galleri Oxholm,  Pile Allé 25, Frederiksberg; gallerioxholm.dk
For many years the world only knew Boy George as a musician, but in fact, he has been exploring the visual arts since his teenage years. However, it wasn't until 2019 that he exhibited his works for the first time, and since then things have been going strong. Now Boy George's pictures – inspired by his personal experiences – sell for millions.
For news of other events coming up in the Copenhagen area, check out the new Copenhagen Post calendar here.
Breakfast Bingo
June 24, 10:00-16:00; Huset KBH, Rådhusstræde 13, Cph K; 100kr; huset KBH
Bingo lovers can win different game prizes after enjoying an awesome breakfast plate consisting of a croissant, a boiled egg, fruit, yoghurt with muesli, bread and drinks. Bingo cards are available for 10kr a piece with all proceeds going directly to Ventilen – a Copenhagen-based organisation fighting loneliness among youths.
Danish on a Sunday: The Cake Dynasty
June 25, 14:15; Cinemateket, Gothersgade 55, Cph K; free adm; cinemateket
Every Sunday Cinemateket screens Danish movies with English subtitles. This time visitors will get to dive into the world of middle-aged Niels who is at breaking point with his family-run cake factory on the verge of bankruptcy. 
Dumpling workshop
June 25, 12:30-16:00; Hot Pot Republic, Vesterbrogade 146, Cph V; 516kr; dumplings-workshop
At this workshop participants learn how to make homemade dumplings the authentic Chinese way. Both meat and vegan versions of fillings as well as the art of dumpling folding will be taught. 
Rooftop Music: Lugna
June 24, 19:15-22:00; Zoku Copenhagen, Amagerfælledvej 108, Cph S, free adm, livezoku.com 
The Argentine duo Lugna will play live music from all over the world on the rooftop at Zoku Copenhagen.
Salsa Summer Evenings
June 19 & 26, 18:00-22:00; Reffen Werkstatt; Refshalevej 167A, Cph K; free adm; www.facebook.com
Salsa Libre Copenhagen is inviting Copenhageners to a true Latin Summer Fiesta. Between 18:00 and 18:30 an absolute beginners intro class in salsa dancing will be held. The newly acquired dance moves can then be practised while listening to salsa, bachata, merengue and reggaeton hits.
Danish language meet-up – Useful and fun phrases
June 22, 18:00-20:00; Copenhagen Main Library, Krystalgade 15, Cph K; free adm; www.meetup.com
Internationals living in Copenhagen often come across strange Danish phrase. At this event participants will learn what they mean while networking with other expats.
Sunday Salsa/Bachata Classes
Every Sunday in June; Valdemarsgade 12, Cph V; 70kr (50kr for students); 4water.org 
Until June 28, CPH4Water organises Cuban salsa and bachata dance classes for different levels every Sunday. The basics class is free, while all other courses cost 70kr (50kr for students). All profits go to the non-profit organisation WaterAid, which provides people in need with clean water and sanitation.
Techno In The Garden
June 24, 16:00; Byhaven Pumpehuset Studiestræde 52, Cph K; free adm; Andrea Martini & Friends
Techno In The Garden starts its summer season of daytime raving at Byhaven. Andrea Martini will host the best melodic techno community in Denmark with special guest Hevi Levi!
Swamp attack
June 24, 18:00; Amager Fælled, Artillerivej 73B, Cph V; 120kr; facebook.com
This year's forest party offers ten hours of the psychedelic world's best. An event promising delicious sounds, fluorescent deco, a bar and much more.
For news of other events coming up in the Copenhagen area, check out the new Copenhagen Post calendar here.