News
Inclusion is a question of belonging
---
Companies with internationals would do well to assess their culture and devote resources to addressing diversity, contends leadership coach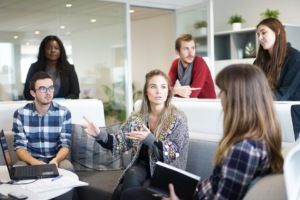 According to the report 'Denmark's Battle for Global Talent' by the confederation of industry, Dansk Industri, over 40 percent of companies said attracting global talent is of a high priority.
Among its recommendations was for companies to create networks for foreign employees to build relationships with their Danish colleagues and to train managers on how to work with and manage cultural diversity in the workplace.
"Danes might think that they are paying internationals a compliment by not treating them differently from Danes. But they are doing internationals and ultimately their company a disservice," says Signe Biering, the executive advisor of leadership and diversity at The Coaching Room. She specialises in bridging the gap between internationals and Danes in workplaces.
She is currently working on a research project in collaboration with the University of Copenhagen and Dansk Industri in an effort to improve the onboarding of internationals.
Echoes Of The Jante Law
Biering explains that Danes are not consciously malicious when it comes to welcoming internationals, but its roots are in the unspoken Danish code of down-to-earth conformity, known as the Jante Law – which stipulates that nobody should believe they are different to or better than the masses.
Except … that way of thinking doesn't work when it comes to diversity. It's in the meaning of the word; being different or offering a great deal of variety.
"There is no active inclusion because Danes assume that internationals are included, because we are all equal. The thought is that we are all in this together and no-one is special or should be treated differently," says Biering.
"But internationals don't speak the language. They may look different, think differently and have divergent expectations. They are not the same."
According to Biering, it's about belonging rather than inclusion. Belonging, she says, is more nuanced than inclusion, which almost sounds like you're trying to get some social outcast more involved.
"And if you want to instill a sense of belonging in people, you must actively pursue that as a goal. You can't just assume it's going to develop on its own accord."
Inroads To Innovation
Considering that Danish businesses are increasingly in need of competencies from abroad, they have a vested interest in keeping them happy and making them feel like they belong.
Aside from helping with staff retention, when internationals feel they belong, Biering believes that it not only shortens onboarding times, but also frees up energy more productively spent on work tasks.
Additionally, the friction that can arise from embracing a culture change to address these issues also fosters innovation.
"We know that teams that are diverse – in terms of gender, background and socioeconomic experience – are more innovative. What we don't talk as much about is that this only happens if we take the time to celebrate the difference," says Biering.
"Bringing in people with these differences forces companies to consider change. And because it can go against Danish nature to face these issues, the resulting friction generates conflict between interests and viewpoints. When these conflicts are mitigated, the result is innovation."
Biering points to noted management thinker Amy Edmonson, an advocate of the importance of psychological safety in the workplace in order to foster learning, innovation and growth.
If employees are uncomfortable raising issues pertaining to how their work is going, or asking for clarification of job descriptions, development becomes stunted.
It's a numbers game
The good news is that a great number of companies are becoming increasingly aware that internationals require a more finesse touch. In fact, many can't afford to think otherwise.
"I think the sheer number of internationals – some 300,000 full-time employees; or every eighth worker in Denmark – is changing Danish workplaces. Some realise this and understand that they will lose their own culture, or be left with a watered-down version, without winning anyone over if they don't act," says Biering.
"When I started working as a leadership coach in this area five years ago, no-one talked about it. Now it's everywhere. What also helps is that it comes at a time when diversity is an important talking point."
Biering says the topic has become so prevalent that she has been invited to speak about it at the Folkemødet political festival and at Denmark's biggest human resources fair, Træfpunkt HR.
Take the time, reap the rewards
An increasing number of companies in Denmark have set aside resources to address the topic, and some even have tool kits or hotlines dedicated to facilitating change.
But even at the most international companies, like Novo Nordisk or Maersk, there exist pockets of Danish culture that resist change.
Most companies that Biering deals with have at least 1,000 employees and, while they know what they need to do, leadership focus on the issue can be found wanting.
SMEs, in contrast, often lack the HR resources needed to encourage change, but because they are smaller it can be easier for them to embrace new paths.
The first step for companies, says Biering, is to take stock and analyse where they are and where they need to go.
"It's not difficult. It only takes a few hours and you'll be left with invaluable pointers about which direction to go," concludes Biering.
"But you must be conscious of it."
---
Advice To Companies
1. Ask your internationals how they are doing. Do they feel like they belong? You can't move unless you know where you're moving from.
2. Are you starting from scratch or have you implemented something already? A culture analysis can urge the entire leadership to start thinking about this.
3. Workshops to discuss how to talk to and about the internationals, company culture etc.
4. Consider language policy, diversity, whether we speak respectfully, what the internationals think of our cutlure – is it inclusive?
Advice To Internationals
1. Expats should take matters into their own hands and create the social life they want. You shouldn't look to the Danish employer to create it for you.
2. Join groups online, talk to other internationals or ask Danish colleagues what they would do. Say "Hey what would you do? I need some friends". Be honest about it and they might see that you need assistance. The Danes can be lured, but not in a whiny way, but more a "Hey I can contribute" kind of way.
Source: Signe Biering