News
Inside Danish Sport: Tired national team will struggle to reach Euro 2024
---
The last games of a long season are rarely the best. A worn-out Denmark netted a narrow 1-0 win over Northern Ireland on Friday and then drew 1-1 against Slovenia last night. Another Qatar-like disappointment looks increasingly likely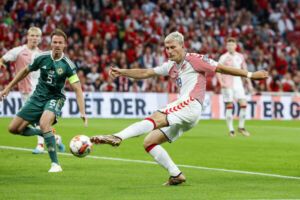 Two years ago, Denmark excited Europe on their way to reaching the semi-finals of Euro 2020, eventually losing against England at Wembley. The team then swept aside all opposition and qualified superbly for the 2022 World Cup in Qatar.
The team played so well that the Danes themselves thought they were dark horses to become world champions.
That was then. This is now.
The World Cup ended in a huge fiasco: a 0-1 loss to rank outsiders Australia. In March, Denmark lost 2-3 to the even less recognised nation of Kazakhstan, yet the players are the same. What has gone wrong?
The simple answer is that, for a long period now, Denmark have been playing too slowly and without the passion and energy so fully on display a few years ago.
The players are tired after a very long season, so it is not fair to expect exquisite flourishes and smart goals from a team that need to recharge their batteries. Still, players and fans are no longer in sync. The media have become critical of national coach Kasper Hjulmand, and the players seem hesitant when they try to find words to explain the disappointing game.
"We have plenty of quality, but we are in a period when we are about to find ourselves again. I don't think we've ever had so much quality on the ball while I've been in the national team. Without the ball, we must constantly figure out when to press and when not to press: when to stand in the block and when to be aggressive," said captain Simon Kjær.
Strong defence key to Denmark's opponents
That doubt would make sense if it was a new group of players getting to know each other. It is not. The team has had the same core group of players for three years. Seen from the outside, it looks more like the players from the big clubs lack the physical good shape they had before, and that the opponents, by organising their defence tight, make Denmark push the ball from side to side to the extent they rarely become dangerous.
On the upside, 20-year-old striker Rasmus Højlund from Atalanta has scored a hatful of goals and made a splash in the side. But unfortunately, the most experienced stars – such as Kjær, Christian Eriksen and Andreas Christensen – have not been able to carry the team. Qualification for Euro 2024 in Germany next year is far from a given, even though Denmark is drawn in a pool of less capable opponents.
"We struggle with the flow of the game; we're not creating enough chances, there are a little too many unprovoked mistakes and some easy misses on the ball. We lack pace, but I have great faith we will pick it up in the autumn," said Hjulmand.
He is a popular man in Denmark and has just extended his contract to 2026. According to his own statement, he has turned down attractive offers to coach abroad.
Right now is his most challenging time as national coach. Finland and Kazakhstan surprisingly top a pool from which only the best two will qualify for Euro 2024.