News
Minister addresses Mette's deleted Minkgate messages in late-evening doorstep challenge
---
Yesterday evening, Troels Lund Poulsen, the acting defence minister, held a press conference outside his home to answer questions relating to new revelations that the defence intelligence agency could have recovered the texts, but did not have the authority to do so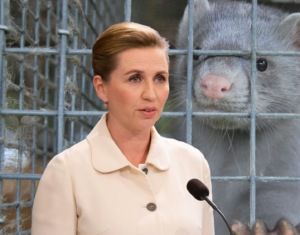 Troels Lund Poulsen, the acting defence minister, faced the media on his doorstep last night – clearly the situation was an important one that needed immediate clarification.
His appearance followed a briefing of key parliamentary figures at the Defence Ministry earlier in the evening.
Poulsen told the media what he told the leaders: the defence intelligence agency Forsvarets Efterretningstjeneste (FE) will not be able to recover the text messages deleted from PM Mette Frederiksen's phone that relate to the events surrounding Minkgate.
"I am sad to note that the data that was there is no longer here," Poulsen informed the media.
"Can messages be recreated today if a warrant is given for it? The Center for Cyber Security says that it is not possible. The answer is no."
FE did not have legal authority
In November 2020, Denmark quickly culled 17 million mink to avert a potential corona outbreak among the caged animals.
A subsequent investigation in 2021 sought to examine the text messages of all those involved in the decision, but were unable to look at the PM's because they had already been deleted. Or at least that's what MPs – and the public – were led to believe at the time.
Revelations in BT last week claimed FE was never requested to recover Mette Frederiksen's deleted messages, even though it would have had access through its monitoring of the government Wi-Fi network.
FE was never given the legal authority to recover the texts – a state of affairs it confirmed on three occasions in notes sent to the Defence Ministry. This was then with-held from MPs in an all-important written response to the Danish Parliament's Legal Committee.
But according to Poulsen, none of those who took part in the closed consultation to deliver the written response understood that FE lacked the legal authority to attempt a recovery, even though FE had made that clear to the Justice Ministry.
Another consultation on the cards
"In 2021, the Danish Parliament was informed that the Center for Cyber Security did not have the authority to search for iMessages or text messages," Poulsen said last night.
"It was communicated orally to the consultation, and a speech sheet was subsequently sent to the Scrutiny Committee on 13 December 2021. The Danish Parliament has thus been informed orally and in writing about the authorisation issue. Of course, I fall a little short here, because I was not part of the closed consultation myself."
Poulsen has also ruled out the possibility of Apple helping with the recovery. Both Liberal Alliance and Danmarksdemokraterne both suggested the tech company should be approached.
According to Konservative political spokesperson Mette Abildgaard, the misleading of the MPs in late 2021 was not discussed at yesterday's briefing.
"We have been told that it will be discussed at a consultation," she said.