News
Sankt Hans Aften bonfires given go-ahead in capital region on Friday 
---
The drought has caused the authorities to cancel the festivities in Jutland and many other places across the country, but not in the area around Copenhagen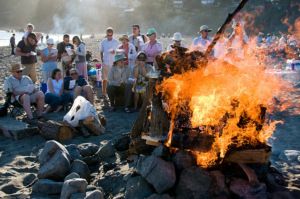 Several weeks of drought means that Midsummer's Eve on Friday will be celebrated across large parts of the country without a bonfire. This is the message from the Danish Emergency Services.
In all municipalities west of the Great Belt there will either be a total burning ban or a more specific bonfire ban in place for Skt Hans After, Danske Beredskaber informs TV2.
In addition, it will not be legal to light bonfires in several West Zealand municipalities, on Bornholm, or in Helsingør and Tisvilde Hegn.
"When the whole of Denmark lights big fires at the same time, it presents a risky picture. Our assessment has been that we must intervene," said Bjarne Nigaard, the head of secretariat at Danske Beredskaber.
The prohibition of bonfires and burning is decided by the local emergency services.
In addition, the decision to enact the burning ban is based on a clear forecast from DMI, informs Nigaard.
Changes may occur
Danske Beredskaber is still following the situation closely, and therefore it has not ruled out the possibility of the decision being changed before Friday.
Naturally, the decision could change if it rains a lot. But conversely, the amount of rainfall could also change matters in other areas if there is next to no precipitation.
Among the capital locations looking forward to celebrations to make the longest day of the year are the street food centre Reffen and the city's most popular beach, Amager Strandpark.
At Reffen the celebration will take place at the harbor front. A bonfire, lots of food and drinks, and live music are expected.
At Amager Strandpark, the celebrations will also mark the 75th anniversary of the founding of LGBT+ Danmark. It will involve a bonfire, food trucks, speeches, the singing of Danish queer songs, storytelling and a special 75 seconds of silent gratitude when the clock strikes 19:48.
You can find out about the applicable rules for bonfires and local conditions at brandfare.dk.