News
Anti-racism posters coming to a public transport near you – and designed by you
---
From this October, your art could be on display at bus stops and stations in Denmark, courtesy of the Anti-Racism & Civic Courage Training project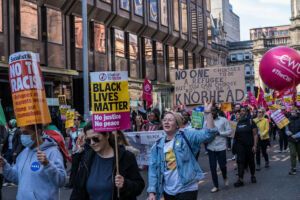 Later this year, you might be on public transport in Denmark or Germany and find yourself staring at some pretty crazy art.
Clearly there's a racial discrimination angle – Rosa Parks arguing with the bus driver or, closer to home, Greenlandic people drinking in a square – but what's it all about, you might ask.
Well, it's all part of a project launched by the Anti-Racism & Civic Courage Training (ACCT) to raise awareness of continuing racial discrimination in Europe, and the exciting thing is that you can enter their competition to design a poster to do just that.
Winners announced on October 1
Until August 31, posters can be submitted via various social media platforms, email, or ACCT's official website. Based on visual aesthetics, originality and the message's impact, the submissions will be evaluated by an expert committee.
The winning posters will be announced on October 1 and then included in the ACCT Awareness Campaign.
The project is collaborating with six European partner organisations, who will repost the chosen designs on their social media accounts.
A country with questionable standards
The ACCT has chosen to include Denmark due to increasing claims of racial discrimination by international media. One example is the former government's (Socialdemokratiet) policy on being tough on immigration. A stand backed by many parties in the Danish parliament.
The government, for example, has stuck with the 'ghetto package', a controversial project launched by the center-right predecessors in March 2018, which enables the authorities to carry out forced evictions to change the make-up of vulnerable populations.
Furthermore, Denmark was recently accused of having a high degree of structural racism towards Greenlandic people by UN expert José Francisco Cali Tazy.
READ ALSO: UN to Denmark: Stop being racist to Greenlanders!
Currently, 15.4 percent of Denmark's population accounts for immigrants or descendants – a number that will most likely keep growing.