News
Top Danish company hugely criticised for withdrawing support for Pride due to US threats
---
Biotech company Chr Hansen suddenly caught in a severe internal and external storm. After reacting to threats from US customers and business partners, the Danish C25 company is subjected to extreme criticism by employees and media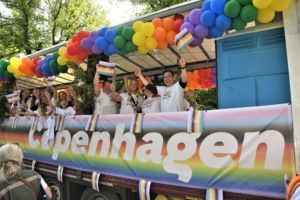 A large Danish company has ended up in a violent storm. American enemies of the LGBTQ+ movement have pushed Chr Hansen to withdraw its very public support for 'Pride Month', an annually-held global series of events held every June since the 1960s.
It also means Chr Hansen will no longer be a sponsor of Copenhagen Pride in August.
In an internal video for employees, Chr Hansen's CEO talks about the decision.
"We must look after our customers and market shares worldwide. It sometimes forces us to make difficult decisions like this one, even though it can be painful," said Mauricio Graber in the video posted on the company's intranet last week.
Profit and shareholders put first
Chr Hansen is a global, differentiated bioscience company. It develops and produces cultures, enzymes and probiotics.
The management's decision faces massive criticism. Over 400 employees have signed a letter of protest, which has been sent to Chr. Hansen's management. DR is in possession of the letter in which the employees write, among other things, that they are "extremely shaken" by the management's decision.
"We feel that you put profit and support for shareholders and customers above the working environment of your own employees," reads the letter in which the employees call the management's decision a "serious breach of trust".
Escalated criticism
On Tuesday, criticism of the management's decision escalated when Danish media began covering the story.
Without being entirely specific, the management explains that the decision is based on protecting the safety of American employees.
"The US is experiencing a wave of boycotts and threats of violence across sectors against companies with visible Pride Month support. Unfortunately, it has also affected Chr Hansen – among many other companies," noted Graber in the video.
Chr Hansen's top management was named earlier this year as the most diverse among large joint-stock companies in Denmark – measured in terms of gender, ethnicity, educational background, and LGBTQ+ efforts.
The company has more than 3,800 employees in over 30 countries. It first chose to publicly mark its support for LGBTQ+ people in the summer of 2022, when Chr Hansen participated in Copenhagen Pride, and several employees joined the parade.
No long a partner of Copenhagen Pride
Until mid-June 2023, Chr Hansen's logo appeared on Copenhagen Pride's website because the company was a partner and thus supported the association financially.
The company has now ended the collaboration and has asked Copenhagen Pride to remove Chr Hansen's logo, according to DR.
Communications consultant Sune Bang advises Danish and international companies in matters of diversity. He criticises that Chr Hansen has succumbed to the resistance in the USA.
"It is cynical and hypocritical if, as part of one's image and narrative, one only expresses attitudes and values as long as it provides financial gain. It will be populist," he told DR.
Bang estimates there is a lot of resistance from right-wing Americans who organise shitstorms against companies that have values that support LGBTQ+ agendas. He calls it "sad" that Chr Hansen does not stick to their public support of the rights of LGBTQ+ people.
"The decision to remove support for Pride shows that Chr Hansen's views do not go deeper than their pockets. Because if there is no money in the pockets, then the attitudes are thrown away. And it makes companies look very bad when they suddenly change their position because of the economy," he said.