News
Denmark to spend 143 billion kroner on defence over next decade
---
Bar the odd training exercise in remote areas, Denmark has always hid its military clout pretty well. But all that will change over the next decade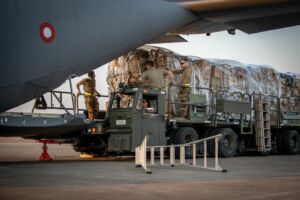 Ever got caught behind an armoured vehicle on a country road, or come across a few squaddies at Central Copenhagen Station and wondered why you so rarely see them? Well, Denmark's military clout is about to become a lot more evident.
As was reported in late May, the government will invest heavily in defence over the next decade: 143 billion kroner. And yesterday, it was confirmed it has the backing of a broad parliamentary majority to do exactly that. 
The spending should mean that by 2030 Denmark will fulfil NATO's goal of all its members spending 2 percent of their GDP on defence.
Denmark's Armed Forces will consequently grow, and the country will invest heavily in arms.
Deemed necessary in current climate
The increase has been felt necessary in what is becoming an increasingly volatile world – as long as Russia continues to fight the War in Ukraine, it will pose a threat to European security. 
Last year, a large majority of Danes voted yes to join the EU's defence co-operation – ending an opt-out that had stood since 1993.
The government parties had the backing of left bloc duo Radikale and SF, along with the entire blue bloc: Liberal Alliance, Konservative, Danmarksdemokraterne, Dansk Folkeparti and Nye Borgelige. This meant only Enhedslisten and Alternativet stood outside the agreement.
Milestone for Danish defence
Troels Lund Poulsen, the acting defence minister, hailed the agreement as a "milestone" that will provide "a historic and in every way much-needed boost" for Danish defence. 
"With the situation resulting from Russia's attack on Ukraine, it is absolutely crucial there is broad support behind Danish defence and security policy," he said. 
"Russia's attack on Ukraine has shown us that we can no longer take peace and freedom for granted. There is war in Europe. We take that very seriously. We must show the will and ability to contribute to our common security – in NATO, the EU and with our allies and partners."
Up to nearly 20 billion by 2032
The agreement promises that Denmark will play a more active role in co-operation on security and defence in the EU, including the union's military missions and operations.
Earmarked spending includes 27 billion on putting buildings in order, building IT and strengthening personnel over the next ten years, and 11 billion on necessary investments in personnel and materials.
For the remainder of this year, 6.7 billion has been set aside. By 2032, annual spending will amount to 19.2 billion.