Review
Roskilde 2023: Busta Rhymes in rare form in Roskilde
---
REVIEW  ★★★★★☆ Busta Rhymes pulled out all the stops in Roskilde.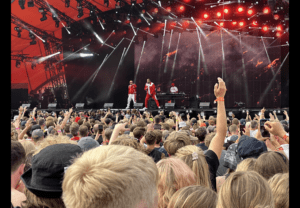 Busta Rhymes, 15 years removed from his last concert on Danish soil, turned out to be a perfect festival fit. Assisted by his long-time hype-man Spliff Star, Busta kept the party going at the Orange Stage on Thursday.
Busta and Spliff Star showed up in matching red sweatsuits. They stayed in sync throughout the performance. The iconic smash hit 'Put Your Hands Where My Eyes Can See' was one of the first tracks performed and set the tone from the outset. 
Mic check
Initial microphone troubles had Busta hollering at the soundmen and were promptly fixed.
Busta's trademark high-energy show was exactly what the festival audience wanted. There were sngalongs, handwaving and jumping in unison as Busta implored them to stay engaged. They didn't need much coaxing.
For anyone who forgot how deep and impressive Busta's catalogue truly is, this was the ultimate reminder. From the 1990s to the present, Busta has anthems that sound even better live.
Something for everyone
From songs for the ladies like the Pussycat Dolls' 'Don't Cha' to his own 'Make It Clap', the rapper could have gone on for hours. His time was actually cut short after an extended DJ performance ate up some minutes.
He also played a selection of forgotten gems like the Rick James-assisted 'In The Ghetto' and his Janet Jackson collaboration 'What's It Gonna Be'. There were fewer people singing along to these, but I for one appreciated their inclusion.
Highlight reel
Other highlights included speed-rapping with impeccable breath control while performing his first-ever song, and his iconic and much-shared 'Look At Me Now' verse. At other times he played around with his rap volume: a true vocal master.
It was a pleasure to experience Busta Rhymes in Denmark; he was well worth the 15-year wait. And luckily Danish promoters are already bringing him back later this year.