News
University of Copenhagen suffers huge drop in prestigious rankings
---
Denmark in decline with their Swedish counterparts in the ascendancy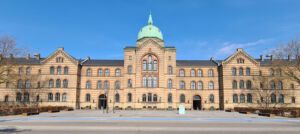 It's been a rough year for the country's universities.
First there is the threat of shortened courses: the government is still keen to reduce certain master's courses from two years to one, even though support parties SF, Liberal Alliance and Konservative, as of June 7, were beginning to question the wisdom of the bill.
And with that still rumbling in the background came the news that the University of Copenhagen has suffered a huge drop in the prestigious QS World University Rankings for 2024, falling from 82nd to 107th.
And it was not alone, as DTU also fell markedly, from 104th to 121st.
Disappointing slump
All of this means that the University of Copenhagen is now only the fourth best uni in the Nordics, trailing Swedish trio KTH Royal Institute of Technology (73), Lund University (85) and Uppsala University (105).
Previously the University of Copenhagen was the top establishment in the Nordics – in 2022 and 2023.
And it also means that Denmark only has two universities in the top 10 and five in the top 30.
The only other Danish universities to make the top 30 were Aarhus University (143), University of Southern Denmark (326) and Aalborg University (336).
A few indications of brilliance
However, the University of Copenhagen remains the most well-renowned faculty among international academics in the Nordic region, ranking 80th overall for Academic Reputation.
It is also considered to be the most collaborative Nordic institution, ranking 19th worldwide for International Research Network. 
Aarhus University, meanwhile, achieved the highest indicator ranking of any Danish uni, placing 18th for Sustainability. 
DTU was among the world's top 100 for both its Faculty per Student Ratio and International Faculty Ratio.
Sweden top in the Nordics
While Denmark achieved the highest scores in two of the nine indicators, Sweden managed it in six.
According to QS, Sweden can therefore be considered the Nordic nation with the most successful higher education system.
Leading the rankings for the 12th consecutive year was MIT – the Massachusetts Institute of Technology, followed by British duo The University of Cambridge and The University of Oxford.