Life in Denmark
The Rumble Strips front man Charlie Waller on learning to love Copenhagen
---
Charlie Waller was the lead vocalist and guitarist for the UK indie pop band The Rumble Strips. Today, he lives in Copenhagen.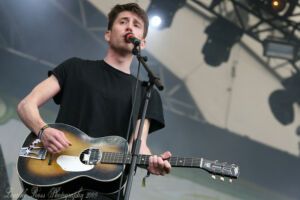 Back when Charlie Waller was incessantly gigging in London as the frontman of The Rumble Strips, it was the heyday of the British indie pop wave and the band was at the centre of an exploding live music scene. Today, his professional music career has come to an end and he has since swapped the sprawling English metropolis for the Scandi cool of Copenhagen. It's almost nine years since he relocated, but Denmark was far from an easy transition.
I settled in Denmark because … of my daughter, who is Danish and was born exactly the night after I first arrived here.
If you ask me if it was love at first sight, I would say … no, not at all. At first, I really hated Denmark and its people. It had nothing to do with them but simply with the fact that I did not exactly choose to live here. I had been quite happy in London and was still planning on pursuing music back then. In Denmark, I really felt like there was not much of a scene for new bands and more people were playing cover versions in small pubs, which was not what I intended to do.
My favourite observation about the Danes is … how fit and healthy they are. What really surprised me is that you almost never see overweight people here.
Here in Denmark, I never get used to … how flat the country is. In my hometown Devon in the UK, there are lots of hills and I really miss them.
Jeg kan tale … lidt. I can speak a little Danish, but not fluidly. My daughter is Danish, but she doesn't like me speaking it because she gets very embarrassed of me.
On an integration scale of 1 to 10 I would say I'm a … 7 because I have got lots of Danish friends. However, I would say that my social circle is a mix of expats and Danish people.
I think the best way of making Danish friends is … doing some sort of activity. I found it hard to meet people until I tried out this improv class where I met both expats and Danes. We even opened a little improv theatre which turned into a great place for socializing.
My top recommendation for visitors exploring Copenhagen is … La Banchina, which is both a restaurant and a sauna right by the sea. It feels like a really good Scandinavian thing to do because you can have nice food there, and afterward you go into the sauna and jump in the sea. It definitely feels like something you would not get to do in other cities.
My favourite spot for food and favourite drink venue are… Sticks'n'Sushi, where they have brilliant food, and you get a great view of the Tivoli Gardens. For drinks, I would recommend Gravens Rand, which is a nice pub in Frederiksberg.
The three words that I think best describe Copenhagen are … beards, sunny, and dark.