Things to do
Hot in Town: New Yorker TV, jazz, stand-up, and the city's most hyped sandwiches
---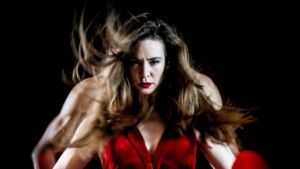 DANCE: 7Senses
September 7-9, Glassalen – Tivoli, Vesterbrogade 3, Cph V
This world-class dance performance at Tivoli is inspired by human senses, and choreographed by the award-winning Selene Muñoz. The show is a seductive combination of expressions and styles, including modern flamenco, dance and ballet, and is accompanied by fusion music written and performed by bassist Jesper Thorn, featuring rhythmic, new classical and flamenco influences.
ART: Common efforts
August 23, 16:00-21:00 (opening), Eighteen Gallery, Slagtehusgade 18c, Cph V.
Lulama 'wolf' Mlambo is a 27-year-old visual artist and painter based in Johannesburg South Africa, who explores the human condition by creating hyper-visualized characters. Her exhibition Common Efforts will be in dialogue with works of the late Danish-French sculptor Sonja Ferlov Mancoba (1911-1984).
For news of other events coming up in the Copenhagen area, check out the new Copenhagen Post calendar here.
CONCERT: Jazz concert with Norbert Susemihl's Joyful Gumbo
September 9, Krudttønden Cultural Centre
Norbert Susemihl's Joyful Gumbo is a Scandinavian-based jazz band whose unique mix of songs and fresh, energising interpretations make their performances especially creatively inspiring.
OPERA: Denis & Katya
August 25-26, The Folk Theatre, Nørregade 39, Cph K
Two 15-year-olds in love live every moment of their lives online – right until the very end. In the narrative-style opera Denis & Katya, we follow the tragedy of the two Russian teenagers who, on live stream, share their last hours with the entire digital world. With this chamber opera, duo Philip Venables and Ted Huffmann (composer and librettist) cemented themselves as vanguard voices of new opera. Denis and Katya is staged around Europe and the US.
COMEDY: UltraHands – English Comedy Night
August 25, Lygten Station
UltraHands is the electrifying improv comedy duo of Sarah McGillion and Martin Baré. Sarah's character transformations and Martin's unexpected twists create a rollercoaster of high-energy characters, relatable moments, and spontaneous hilarity.
For news of other events coming up in the Copenhagen area, check out the new Copenhagen Post calendar here.
RESTAURANT: Abrikos
Nørregade 38, 1165 København
Abrikos is the hyped new eatery on Nørregade that elevates sandwiches to gourmet level. The café's atmosphere is singular, shaped by an 80s playlist, white tiles and an crochet curtains. There are six sandwich options: egg salad, cucumber cream cheese, ham/cheese as well as vegetarian and vegan versions, and chicken cordon bleu. Politiken's Ibyen gave it five hearts.
TV: How to with John Wilson, Season 3
An anxious New Yorker attempts to give everyday advice while dealing with his own personal issues. He tackles topics like finding a public restroom, cleaning your ears and working out. The six-episode-long third and final season got 93/100 on Metacritic.
FILM: Someday we will tell each other everything
Someday takes us back to a long, warm 1990s summer, in a finally reunited Germany. 19-year-old Maria (Marlene Burow) already lives with her kind-hearted boyfriend Johannes (Cedric Eich) when she meets Henner (Felix Kramer), a 40-year-old farmer living next door. The triangular drama is superbly acted, scoring five stars on CPH Culture. Emily Atef's feature film is based on Daniela Krien's novel of the same name; both collaborated on the project.
For news of other events coming up in the Copenhagen area, check out the new Copenhagen Post calendar here.