Things to do
This week in Copenhagen: pioneering electronica, breakfast networking, and Baltic wine
---
The best events in the capital this week, curated by The Copenhagen Post.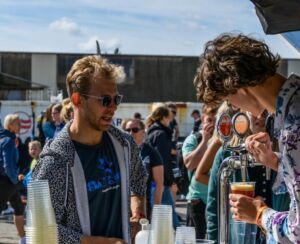 HIGHLIGHTS
Wednesday jazz in Tivoli Gardens
August 30, 19:00, 20:00 & 21:00; Tivoli, Vestebrogade 3, Cph V; free adm (Tivoli entrance ticket); Tivoli.dk
World-class Danish jazz performers backed by the Tivoli Ensemble and conductor Peter Jensen meet for the season finale at The Open-Air Stage.
Strøm Festival
August 31; Glypoteket; Dantes Plads 7, 1556 København; tickets from 30 kr; www.billetto.dk
Not many people know that in the 1970s andd 80s, Glyptoteket was the hotbed of the electronic music scene in Denmark. To celebrate the opening night of Strøm Festival, the legendary Danish sound pioneer Gunner Møller Pedersen will give a talk at the museum on his 50-year career in electronic music, accompanied by sound examples.
GONE (GONER)
September 1-2; Edison, Edisonsvej 10, Frederiksberg; 40-125kr; scenen.dk
Marikiscrycrycry has created a terrifying dance horror journey into migration, alienation, belonging, addiction and violence. Brimming with intoxicating sensuality, this villainous era-defining work is as violent as it is hopeful. It's described as 'rock n' roll, scary, brave, violent, beautiful, sexy and f***** up.'
ALL EVENTS
Simply Grapes Pop-Up
August 28, 18:30; Parterre Christianshavn, Overgaden Oven Vandet 90, Cph K; 300kr; Instagram.com
On this late-summer tasting journey to Croatia, Slovenia, and Italy, wines will be served alongside a menu curated by Simon Basballe and Emilie Qvist.
Breakfast Club
August 29; 9:00; Henrik Rungs Gade 25, Cph N; free adm; info@warehouse9.dk
An event open to queer artists, cultural practitioners, and freelancers. A simple vegan breakfast and good company, join the event for the conversation, a chance to meet new people, and hear what others are working on.
Sydhavn Painting Collective
August 29, 18:00-20:00; Teglholmens Sydkaj, Cph SV; www.facebook.com
A workshop for still life drawing techniques and painting. For beginners or experienced artists, this is an opportunity to enhance skills and explore your artistic side. All materials will be provided, as well as vegan sweets.
Cocktails and Architecture
August 30; 18:00; Refshalevej 173A, Cph K; copenhagencontemporary.org
An after-hours guided tour of the renowned modern art gallert Copenhagen Contemporary, led by architect Dorte Mandrup and gallery director Marie Laurberg. Mandrup spearheaded the transformation of the gallery from the original welding halls into the cultural centre it is today.
Cold Cave Concert
August 30; 19:00; Small Vega; Enghavevej 40, Cph V; ticket from 250kr; www.ticketmaster.dk
Rave to Wesley Eisnold's danceable darkwave in the solo project Cold Cave. Cold Cave is songwriter and author Wesley Eisnold's creative rebirth after playing in the legendary hardcore punk and noise bands American Nightmare and Some Girls. Melodic synth soundscapes are overlaid by Eisnold's charismatic baritone vocals, whose profound lyrics explore the light and dark sides of man.
Repair and upcycle workshop
August 31; Indre By Kulturhus, Charlotte Ammundsens Plads 3, Cph K; free adm; registration on forms.gle
The Circular Creative Community helps extend the life of your clothes and textiles by repairing, re-designing and sewing completely new clothes from used textiles. All tools needed for the workshop are provided.
Outdoor silence dance party
August 31; 18:00; Valby Parken; Hammelstrupvej 100; 75kr; billetto.dk
Two facilitators, 45 headphones, lots of great music, laughter, smiles, and liberating body movement, all in nature! This event blends all genres of dance with musical games and moments of calm and self-connection. The event is open to everyone above the age of 12.
Mit Tingbjerg
Until September 1, 16:00; Tingbjerg Bibliotek, Skolesiden 4, Brønshøj; free adm; bibliotek.kk.dk
Children and young people from Tingbjerg present their works during in the exhibition My Tingbjerg. The show is the result of a 2023 workshop given by photographers Mikkel Hørlyck and Charlotte de la Fuente, in which young people were basic photography techniques and given a creative leg-up. The exhibition can be seen all summer in the square in front of Tingbjerg Library and Kulturhus.
Comedy Stop Copenhagen 2023
September 1; 17:15; Nyropsgade 39-41, Cph V; ticket 225kr; www.ticketmaster.dk
American comedian Sara Schaefer is coming to Bremen Theater as part of Comedy Stop 2023. Sara Schaefer debuted her sell-out comedy show Little White Box at the Edinburgh Fringe Festival, has co-hosted MTV's late-night show Nikki & Sara Live and hosts the podcast The Schaefer Shakedown. 
Ryong
September 1, 23:00-1:00; Christianshavns Beboerhus, Dronningensgade 34, Cph K; 80kr; ra.co
Experimental label Rhizome celebrates the release of its new compilation Hypersea, hosting music from an exciting string of local artists. Be sure to catch Ryong, whose DJ sets draw on deep ambient, noise and art music.
Nordic Race, Refshaleøen
September 2; Refshalevej 163A, Cph K; nordicrace.dk
Nordic Race is the most hardcore series of obstacle course races in the north. Running, cliffhangers, barbed wire, monkey bars and hurdles are just some of the challenges that you'll meet.