Things to do
Hot in Town: Quincy Jones jazz, acrobatic dance, and the new Spiderman
---
Your guide to unmissable culture events in Copenhagen this week.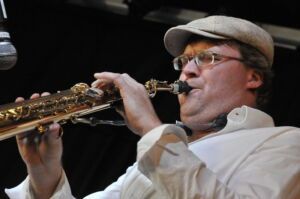 CONCERT: Benjamin Koppel Jazz Galla
September 9; Bremen Teater, Nyropsgade 39-41, 1602 København
Saxophonist and bandmaster Benjamin Koppel and his four wonderful singers, Marie Carmen Koppel, Patrick Dorgan, Mark Linn and Kaya Brüel, delve into Quincy Jones' famous jazz oeuvre and present new arrangements.
COMEDY: Comedy Stop Copenhagen
August 31 – September 2; Bremen Teater, Nyropsgade 39-41, 1602 København
For the second year in a row, Comedy Stop Copenhagen is hosting some of the best in English-language stand-up in the city. This time will be something special as Melvin Kakooza is presenting the festival and will be on stage for the opening gala.
DANCE: Gravity
October 25-27, Baltoppen Live, Baltorpvej 20, 2750 Ballerup
The work of award-winning choreographer Jarkko Mandelin blends modern dance, duo-acrobatics and martial arts techniques into a wonderfully expressive language of movement. In Gravity, eight dancers, with fluid, organic lightness, negate gravity with patterns of lifting and throwing one another at alternating tempos.
The work was created at the end of 2021 in collaboration with the Helsinki Dance Company and was selected as a gala performance when the new Dance House in Helsinki opened in February 2022.
ART: Around the Horizons
August 23 – September 30, Galerie Mikael Andersen, Bredgade 63, 1260 København
Eske Kath's solo exhibition Around Horizons was created in the summer of 2023, during the hottest months ever recorded on Earth. Kath, who studied at the Royal Danish Academy of Fine Art, has also created site-specific works for Nørrebro Library and the Court of Appeal in Eastern Denmark in Copenhagen.
TV:  Star Wars: Ahsoka S1
Settle in for the long-awaited release of the next Star Wars series on Disney+. The timeline unfolds after the fall of the Empire, when former Jedi knight Ahsoka Tano investigates an emerging threat to the galaxy. But, despite the hype, the first two episodes – released on August 22 – only scored 68/100 on Metacritic.
FILM: When Liberation Comes
Up to 250,000 German women, elderly and children fled to Denmark as refugees at the end of the Second World War. In the first half of 1945 alone, 6,540 German children died on Danish soil, where, after many years of accumulated hatred towards Germans, there was little desire to help the enemy.
This is a side of the occupation story that is rarely told. When Liberation Comes is an absorbing and highly unconventional film about a difficult subject, writes Soundvenue.
FILM: Spider-man: Across the Spider-verse
In the next chapter of the Oscar-winning Spider-verse saga, Brooklyn's full-time, friendly neighbourhood Spiderman joins forces with Gwen Stacy and a new team of Spider-people to face off with a villain more powerful than any they have encountered yet. The movie, directed by Joaquim Dos Santos, Justin K. Thompson and Kemp Powers, scored 86/100 on Metacritic.