Things to do
Halloween activities for spooky fun in Denmark
---
In Denmark and other countries alike, Halloween is relatively new. It was in 1998 when Danish newspapers began to arrange Halloween events. Since then, it has grown into a nationwide celebration.
In search of activities to celebrate the spooky season, we came across Ventegodtgaard, an organic farm located southwest of Copenhagen that fully embraces the Halloween tradition.
Here, visitors of all ages are welcomed to self-pick pumpkins from the fields, among other fresh fruits, colorful flowers, and vegetables.
As nowadays people are increasingly disconnected from the origins of their food, visiting organic farms can provide more than just spooky fun. These visits can offer valuable learning opportunities and foster appreciation for agricultural efforts as well as encouraging informed and sustainable choices.
In addition, by purchasing organic produce from the farm, visitors are supporting the local business and farmers, reinforcing the bond between consumers and their food sources.
With enthusiasm and a newly discovered pumpkin pizza recipe on our minds, we set out on a 35-minute drive from Copenhagen to reach the farm.
Our arrival coincided with the onset of a light and windy drizzle. There were pumpkins of different shapes, sizes, and colors everywhere, some forming expansive patches, some placed in wooden crates at the entrance of the farm.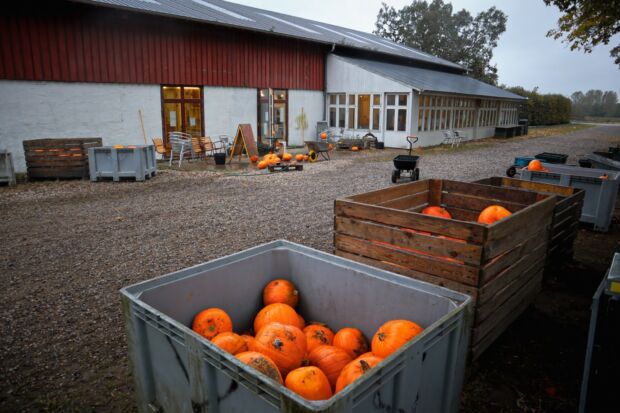 Farm's entrance
Self-picking the desired pumpkins
With our hands wet and earth-stained, we selected three ripe, bright orange ones, each weighing around 5 kilos.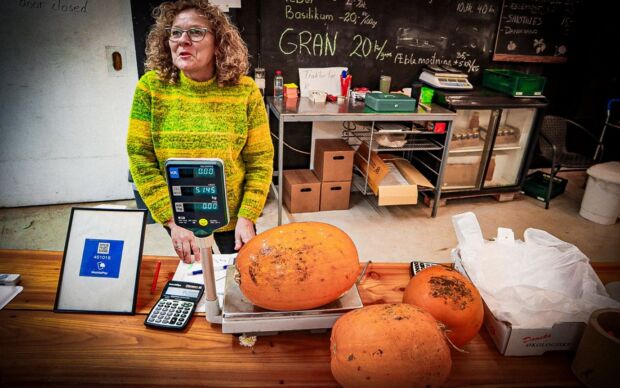 At the counter
We smile as we notice families engaged in the same activity, enjoying their autumn days, and transporting both their carefully chosen pumpkins and children in wheelbarrows. What a heartwarming autumnal scene.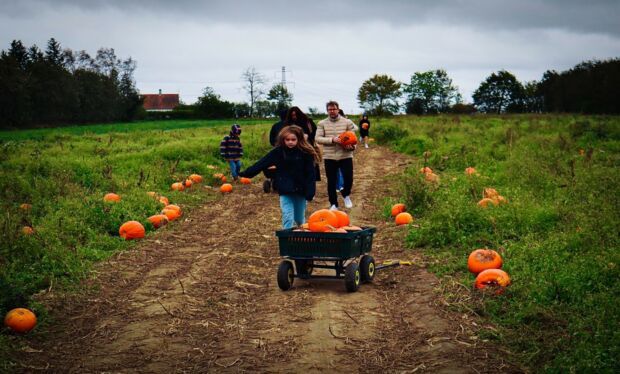 Later, we made use of the farm's facilities to wash our pumpkins, preparing them for the cooking to come.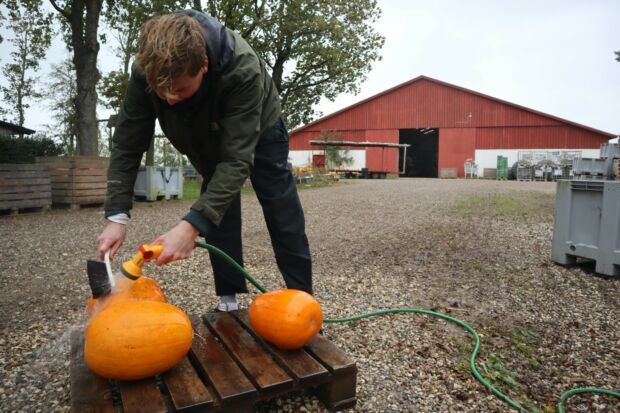 With spooky and undying excitement, our Halloween adventure continued with a visit to Tivoli, the renowned theme park in Copenhagen, where we saw the true giants of Halloween – pumpkins.
The largest of the ten pumpkins displayed in Tivoli weighed 784.8 kilos…yes, you heard it right. Yet, the current record in the Danish Giant Pumpkin Championship stands at 970,4 kilos.
See photo below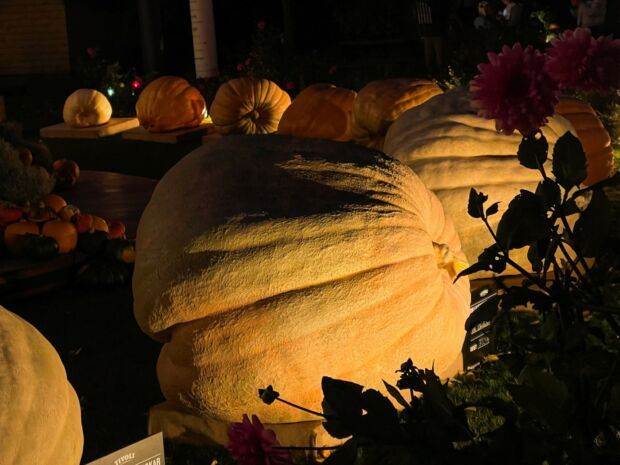 The sight left us contemplating the enormity of such record-breaking size pumpkins.
Moreover, we heard some interesting facts about the Halloween season at Tivoli, specifically the effort and meticulous preparation involved in its execution. 21 gardeners are in charge of transforming the gardens from summer to autumn in only 18 days.
Already in March, they place a massive order of approximately 22.200 pumpkins to decorate the park and create a spooky atmosphere for the guests. These pumpkins find their places throughout Tivoli, along pathways, gardens, and buildings.
One might wonder about the journey of these pumpkins and where they originate. Also, what happens to these pumpkins when the Halloween season comes to an end?
It is our hope that they are repurposed, whether as compost, animal feed, or art materials for community projects, reflecting the values of environmental responsibility.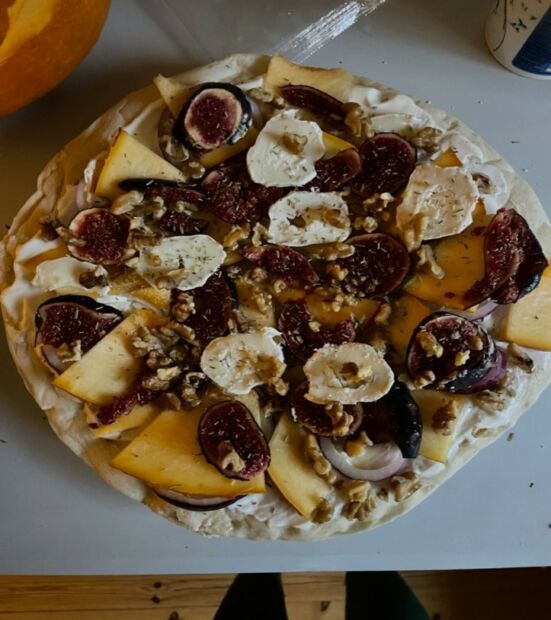 Pizza with fruits and nuts
These were memorable autumn experiences, and on top of that, the pizza we craved turned out delicious. The recipe includes figs, creamy goat cheese, crunchy walnuts, and rosemary and captures the flavors of the season.
Happy Halloween!