Sponsored content
Where is the road to sustainable transport solutions?
---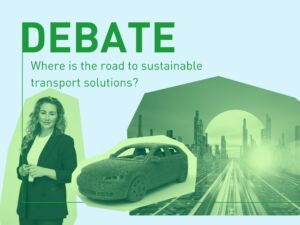 Five years ago, the American tech magazine Wired had a feature about future means of transportation.
What may surprise many, the bicycle came out as the number one choice! Are they still right, or should we believe the car industry, which believes that the electric cars will reduce carbon footprint?
What about public transport solutions, car sharing and other ways to rethink passenger transport and infrastructure?
Is air transport completely out of the equation, and is Hyperloop just a pure sci-fi utopia? And what sustainable solutions for transportation of heavy goods do we see on the horizon?
For this talk and debate at DTU in Lyngby, we discuss the underlying structural causes, the technological possibilities and limitations as well as the dilemmas.
Panel debate
The panel provides an overview of technologies and solutions within infrastructure, transport, and urban planning, and we discuss differences, advantages, disadvantages and perspectives.
We debate the political courage, the economic prioritization, and the necessity for us all to accept any limitations and radical changes when we and our goods must go from A to B, including the crucial first/last mile.
As an audience, you will have plenty of opportunity to ask questions and get involved in the discussion.
The talk and panel discussion will be held in English.
Panel:
Mattia Marinelli, heading the section on e-mobility and prosumer integration at DTU Wind and Energy Systems. holds Ph.D. (2011) and M.Sc. (2007) in electrical engineering from the University of Genoa, Italy.
Sofie Kirt Strandbygaard, Niras, architect, Ph.D. from DTU in the connection between urban planning and the use of public transport
Frida Frost, head of innovation at DTU Wind and PowerLabDK, Frida has a master in Engineering (Energy) from DTU. Frida has also been the president of IDA.
Søren Have, program manager at CONCITO with responsibility for promoting the transition to the green mobility of the future, Ph.D. in mathematics with a minor in physics
Moderator:
Josefine Kofoed, Cand.scient.pol, host on TV2 NEWS, formerly politically active
INFO:
Date: November 30, 2023
Time: at 16-18
Location: DTU, Lyngby Campus, Building 306, Auditorium 32
Admission: DKK 75
Organized by FOF København and DTU.