Life in Denmark
"In Denmark anything is possible": an engineer can become a comedian
---
When Kriti Prajapati moved to Denmark from India, she completely changed her career. Here, she shares how she got a foothold in Copenhagen, and gives her best tips for where to eat, drink and hang out in the capital.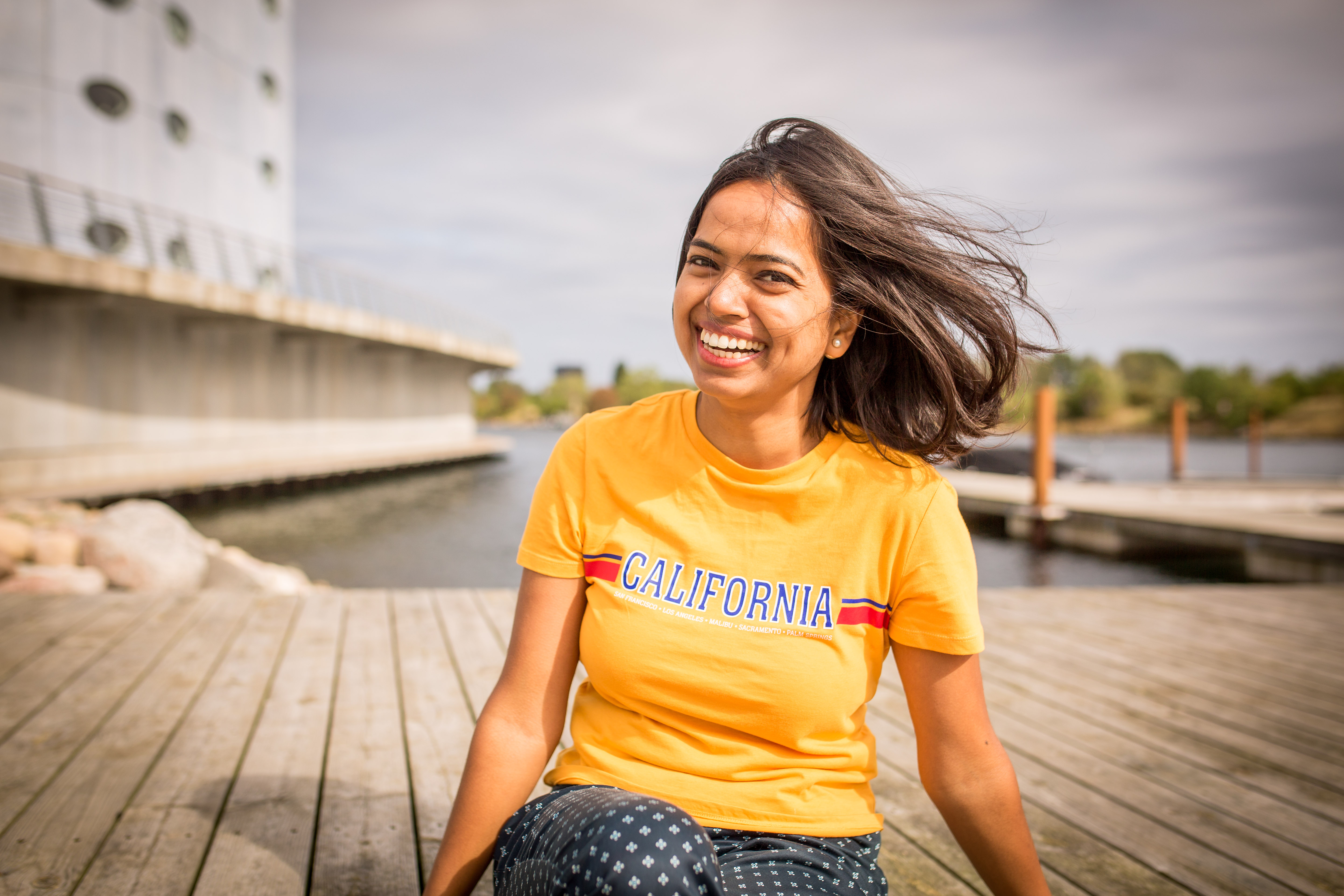 Indian-born Kriti Prajapati moved to Denmark in 2017 with her husband. Over the next six years, she made a remarkable shift from engineering to following her passion for stand-up comedy.
I settled in Denmark because…
I fell in love with a man who was employed by a company in Denmark. Our story began in India, and he made the move to Denmark first. I eventually followed him once we tied the knot.
If you ask me if it was love at first sight or not, I would say…
I would say yes. Denmark marked my very first endeavor abroad, leaving India behind. Copenhagen, in particular, holds a special place in my heart. I still remember my first ride on the driverless metro from the airport. I was amazed to see that there was no driver. It was like love at first sight, but with a little surprise.
My favourite thing about living in Copenhagen is…
My favorite thing about living in Copenhagen is the sense of freedom. As an expat in a foreign country, there are always a few fears, like the worry of not receiving important emails. But what I truly cherish is the freedom to pursue comedy and shape my daily life the way I want. I also appreciate the feeling of safety when I'm out late after a comedy show, not fearing being alone in a foreign place. Copenhagen offers a unique kind of freedom in many ways.
My favourite observation about the Danes is…
Becoming friends with Danes can be one of the best feelings. They are incredibly warm and open once you get to know them. They're always there to help when you ask. You have to make an effort to become friends, but it's worth it.
One interesting thing I have noticed about Denmark is how stylish they are. They always manage to pull off a unique combination of formal clothing while riding a bike. I think this is a style that only they can truly rock.
The difference between being a comedian in India and in Denmark is…
I actually did not do a lot of stand-up comedy back in India. I started when I moved here to Denmark. But there are two big differences I have noticed. First is the language: in India, I could perform in Hindi, which is my mother tongue, and it's easier to be funny in your native language.
The second difference is the audience. In India, I could do a show, and everyone would be from India. Here, it's an international crowd most of the time, and sometimes there are no Indians in the audience when I perform. So, I need to adapt my comedy to be understood by this international audience to make them laugh.
Here in Copenhagen I never get to do…
I really miss Indian street food. I never get to eat Indian finger foods whenever I want here in Copenhagen. I wish there were Indian food options in local shops or food markets, like you see with hot dogs or small bowls of local food.
I believe Indian food has the potential to be a hit here. Even when I go to a store like Lidl to buy bread, I wish I could also find some Indian food options. It is something I rarely come across.
Jeg kan tale..
Even though I have passed the DU3 Danish exam, I am not as fluent in the language as I would like to be. My pronunciation is far from perfect. However, there are two phrases I frequently use in Danish: "Tak" and "I lige måde." When I visit the supermarket, I rely on these two expressions quite a bit.
I think the best way of making Danish friends is…
If you are new to Copenhagen in Denmark, it is a good idea to start by connecting with people who are not purely Danish. Look for those who are maybe half-Danish or have lived abroad and returned.
I attended an event where Danes who had experienced living abroad and coming back to Denmark gathered, and we instantly clicked because we shared similar feelings, even though we were on different dates.
Building friendships in Denmark, especially with Danes, takes time. It is a gradual process. Once you find someone you think could be a friend, you need to go through several stages. You might go out for brunch, invite each other over, or engage in activities together. There are various steps you have to go through before you become friends.
My experience has taught me that it is easier to connect with someone who is not entirely Danish first. Once you understand them better, you can develop friendships with Danes. For instance, one of my Danish friends is married to an Indian, and I think that connection made it easier for us to become friends.
Three great food and drinks spots in Copenhagen are…
I am a comedian, and I'm not much of a drinker, except for coffee. As I love doing comedy, and I want to tell you about three great comedy spots that not only offer hilarious performances but also serve fantastic cocktails.
KnockKnock Comedy Club is a wonderful place where you can enjoy both comedy and great cocktails. It's like a cool bar with comedy shows.
No Stress Bar is another popular famous bar, located in Nørreport. They also host comedy upstairs.
You should also check out Citizen, a club that features comedy performances. I always treat myself to their fantastic cocktails when I perform there.
When it comes to food, my favorite brunch place is Paludan Bog & Cafe. It is near Nørreport station, and I highly recommend it. For coffee, you can't go wrong with Riccos.
I recently dined with friends at Møntergade, which I would consider a fancy restaurant in Copenhagen.
The best places to visit on a budget in Denmark are…
A friend's place! Sometimes, all you need to do is hop on a train and visit a friend who can cook delicious homemade food. In Denmark, it is important to make friends who can whip up some great meals.
But seriously, Denmark has some great places to visit. However, you may need to be mindful of expenses, especially when it comes to food.
Sometimes, you might choose to eat from the supermarket or find the best train deals to save money. So, make good friends and then visit them – you get to enjoy fantastic homemade food too. It's a win-win. That is the best advice I can give.
The three words that I think best describe Copenhagen are…
I will use the initials CPH and describe three words, each starting with one of these letters.
To start with C, the key to enjoying Copenhagen is coffee. I never thought I would give up Indian tea, but I have fallen in love with coffee, especially cappuccinos. In Copenhagen, the aroma of coffee is everywhere, so when you visit, be prepared to savor some of the best coffee you have ever had.
Next, P for people. I have to say, the expat community here is vast and diverse. They are always organizing various activities, so you get to meet amazing people and engage in fun activities with them. I am so thrilled to have friends from all over the world – the US, Spain, and beyond. It's a wonderful exposure to meeting such fantastic people in Copenhagen.
And then there come H for hygge, which is a big deal here. Many cultures have their version of spending quality time, coming together and hanging out, like we do in India or in Bangladesh.
But what I love is how much hygge is ingrained in Danish culture. It is not just a word; it is a way of life. Even us internationals who live here start to embrace it, whether it's going out for a cozy game night or simply unwinding.
So, in a nutshell, it is all about CPH, coffee, people, and the beautiful concept of hygge.