Activities outside of work and school are fundamental to Danish society: they are the cornerstones upon which the work-life balance for which it is famed are upheld, and it is a process which emerges early. Three in four Danish children are actively involved in sport on a regular basis, and about half of all adults are members of some variety of sports club. 
Sports are a big deal in Denmark. Any expat seeking a taste of Danish life for themselves or their children are encouraged to pick out a sporting endeavour. There are clubs that cater to almost any want or desire when it comes to a sporting activity, but all share the same ethos: enjoyability and camaraderie are tantamount, with competition taking a distant second place. 
Teamwork makes the dream work 
The beautiful game is one of Denmark's biggest sports, and it is enjoyed by all ages. For a country of less than 6 million people, football clubs boast a membership of over 330,000. Clubs, catering to the youngest of football's future stars, can be found across the country. 
For those who prefer the use of other limbs, handball offers a handy alternative. Invented in Denmark, they are naturally proud of their sport – and they rank highly internationally. A fast-paced and high-scoring game, it is perfect for international kids seeking a sport with a more Danish edge. 
Unfortunately, baseball fans will struggle in Denmark, where the sport has made only limited inroads. But softball is hugely popular. In the capital, Gladsaxe Softball Klub takes members as young as six, with regular training sessions throughout the year. One of the biggest clubs in the country, there is no better place to give it a try.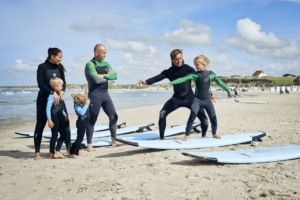 Bridging divides  
A number of these sports are also catered to by GAME, an NGO founded in Denmark in 2002. Its mission is to drive societal change through youth-led sports and culture by training young individuals to volunteer as local sports leaders, and it currently supports underserved communities in Denmark as well as Ghana, Greece and other countries. 
Activities supported by GAME include street basketball, street football, parkour, street dance, yoga and an urban music school – there is truly something for everyone. Since 2010, several GAME Houses have sprung up in previously disused buildings in a number of Danish cities. 
On offer is cheap access to facilities and training sessions, with membership costing a one-off payment of 50 kroner, which then allows access for just 10 kroner for those under 24. 
A taste of home 
Football and basketball are not the only offerings available to expats (and locals) looking for sports popular in other parts of the world. In fact, rugby is Denmark's fastest growing youth sport, with regular tournaments taking place for both the union and touch varieties across the country in the summer months.  
For those looking to get involved, look no further than Gentofte Rugby Klub: Denmark's largest club with over 100 members across more than 20 different nationalities. Training sessions are held for all age groups, starting with an under-6s team.  
It is a great way for young ones to keep fit, learn a sport they are unlikely to find at school, and meet people from a huge range of different backgrounds. To find out more, contact founder and coach Barney Hampson (Hampson_1999@yahoo.co.uk). 
A perhaps more surprising sport taking off in Denmark is cricket. Copenhagen Cricket Club offers training for all ages, though those used to a more 'player-friendly' game may be surprised to hear that training continues through the winter months. A friendly atmosphere, the club prides itself on its 'integration-orientated' philosophy.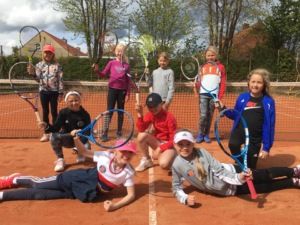 Out of the cold 
For more winter-friendly activities, Denmark offers many opportunities, not least in badminton. As the undisputed kings of European badminton, the country certainly punches above its weight, and with Copenhagen Badminton Club offering sessions for those as young as three and older than 60 it is no surprise! 
Putting the racquet down, rock-climbing and gymnastics offer the kind of energy-sapping activities that will have many parents relieved – particularly in those months when short, cold days might have kids bounding around the home. Sports centres across the country provide facilities and training sessions, alongside a great deal of other indoor pursuits. 
For a change of tone, Aalborg Martial Arts supports even the youngest of would-be fighters and promises exposure to a range of techniques in a fun and easy way. Any budding Mikkel Kesslers might like to check out SIK Fight in Nørrebro, which offers boxing sessions for both the young and old. 
Get outdoors 
On warmer days Denmark provides the perfect landscape for all sorts of activities. Cycling, of course, is the national pastime, with cycle paths and 'super-highways' criss-crossing the country for commuters and adventurers alike. For those with a heightened sense of adventure, mountain-biking is also popular in the country. Trails from northern Jutland to southern Zealand can be found on alltrails.com – just don't forget your helmet. 
If you can't decide on one activity, why not go for a range? Triathlon is a big deal in Denmark: it has a greater participation per capita than any other country! Ironman hosts events in the country, and brave youngsters can also get involved in the Ironkids events. In the capital /tri club denmark offers an inclusive option for people of any level of triathlon experience. It offers a buddy system that supports people throughout their journey.
Unsurprisingly, with 8,750 km of coastline Denmark is big on many water-based activities too. For those wanting to taste the Viking life, sailing clubs are dotted all along Denmark's coastline as well as its many inland lakes. Kayaking and rowing are popular too, making the country a prime spot for any aqua adventures. For the more docile, anyone from the age of 14 can pick up a 'fiskekort' and settle down with a rod and a dream.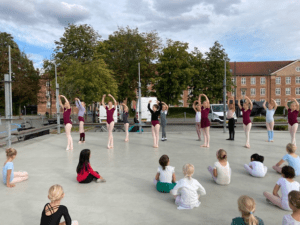 Hitting the right note 
If sport isn't the only thing on your mind, Denmark also offers plenty of musical options too. Music is a required part of the primary school curriculum, and the country boasts a host of world-famous musicians as well as the famous Roskilde Festival. 
SceneKunst run several musical theatre schools across Zealand and now also Odense. The organisation managed five summer camps over the summer alongside the opening of its new school. They cater for children aged four to 18 and place inclusivity centre stage: promising every child a speaking role. 
"We do shows at a high level, so we normally go out to a professional theatre," enthuses founder Russell Collins. "And the whole arrangement is very professional with regards to the microphones, the costumes, the set. It is all produced professionally."