While Denmark may be known for its happy population and delicious pastries, the country has much to offer to families looking for memorable experiences. 
The following is a line-up of a few of Denmark's greatest experiences, be it athletic or theatrical, for families to enjoy and reminisce about in the future. 
From the capital Copenhagen to its home island Zealand, and further afield, there are an abundance of day trips for all the family to enjoy.
---
IN THE CITY
Copenhill
An architecturally unique destination for an active family, Copenhill (Vindmøllevej 6C, Cph S) calls itself "Copenhagen's epicentre of urban mountain sports" – and for good reason. Start your visit by taking the hiking route through an exciting green landscape that lends itself to activities, but remember to take in the view. At an altitude of 85 metres towering above the Øresund, you don't need any further confirmation the height is above sea level. And then move on to the main event: a chance to ski and snowboard down the huge slope, which is divided into different levels to enable support for a wide range of abilities. The centre also includes the largest climbing wall in the world. At 85 metres tall and 10 metres wide, it's a challenge: both to climb and to convince anyone to give it a go. Times at Copenhill should be booked online in advance on its website.
A plan for all seasons
Being the amusement park it is, Tivoli Gardens (Vesterbrogade 3, Cph V) is hard to miss on any list of entertaining locations for family visits. Known for its beautiful scenery in the heart of Copenhagen, Tivoli has not only become a staple main attraction for tourists, but also a regular choice for local families in Denmark. With over 25 rides catering to both the fearless and fearful, nervous laughter is par for the course. Tivoli also has a concert hall where some of the largest names in classical music have performed, the Pantomime Theatre where shows are hosted daily, and the Tivoli Youth Guard, a marching band made up of children. As a seasonal theme park, it is open in limited phases each year: Winter, Summer, Halloween and Christmas. Entrance fees and tickets can be bought either onsite or online. 
Blue Planet 
Is your child still searching for Nemo? Well, they might just find him here at Blue Planet (Jacob Fortlingsvej 1, Kastrup), northern Europe's largest aquarium. Visit Copenhagen's international-class attraction and experience a world cruise under the sea for children and adults, on which you can get up close and personal with thousands of fish and sea animals. In total there are 48 aquariums containing over 7 million litres of water. When it rains, enjoy the fact that on the Blue Planet you can be dry and have a fun day surrounded by water and sea animals. The sun meanwhile brings out the best in the aquarium. On clear days enjoy the sea view and look past the Øresund Bridge to Sweden. Or turn around and admire the aquarium's unique and distinctive architecture, which has become an important landmark in Denmark, winning several prizes, including a RIBA EU Award and the World Architecture Festival's Display Award.
ZEALAND
Denmark's Eiffel Tower
The newly-erected Camp Adventure (Skovtårnsvej 1, Rønnede) is ideal for all ages. A 3.2km trek along a wooden boardwalk takes you through an enchanted beech forest setting to and from the Forest Tower, where a large-scale spiralling walkway takes you to the top of an architectural wonder. Some 95 metres above sea level and overlooking the forest canopy, the views are stupendous. On the way in, it's possible to book Junior into the extensive ten-course climbing park, where tricky obstacles and zip line exultation await in abundance. Expect to spend at least four hours if you do both.
Cretaceously speaking
There's more to the Stevns Klint UNESCO World Heritage Centre than its picture perfect chalk cliffs and the 17 km coastline trek and bragging rights that come with its completion. The area was marked out by UNESCO in 2014 because in amongst its cliffs is perhaps one of the best exposed Cretaceous-Tertiary boundaries in the world – the closest we've got to documentary evidence of the meteor that led to the extinction of the dinosaurs. Unlike all the big meteors since that fateful day 65.5 millions years ago, this is an attraction you cannot miss!
Bunkering down
It's funny to think that just 30 years ago there was barely 800 km of uninterrupted water between the southeastern coast of Denmark and the Soviet Union (modern day Lithuania). Thus, when Stevnsfortet was built on the Stevns Klint cliffs, the fort was very much located on the very frontline of defence during the Cold War. Today it is a museum complete with 1.7 km of secretive corridors carved out of the limestone of the cliffs, which were built to withstand the fallout of a nuclear war. Make sure you take the guided tour 18 metres below ground level to check out the underground bunkers.
Fossil finding in Faxe
Some 63 million years ago, the Faxe Limestone Quarry was completely covered by water, and today you can still find remnants of this period when you visit. At the Geomuseum of Faxe, you can borrow a hammer and chisel and go hunting for fossils hidden within the limestone. The geomuseum also offers guided fossil hunts. The limestone quarry is often used in films and, because of the special lighting and the clear blue waters, the limestone quarry is also a popular destination for professional photoshoots.
Fairy-tale fortress
The beautiful castle in South Zealand built over 600 years ago offers a fairy-tale experience for all. Take the tour around Gavnø Castle, where among other things, you will find Scandinavia's most colourful church room in the castle chapel. Not only can you visit the castle, but also the park, the church, the brewery and the Go Fly courses.
Tale of the trail
The Camøno, also known as 'the kingdom's friendliest hiking trail', extends over 175 km across Møn, Bogø and Nyord. You pass through the area's beautiful scenery, along breathtaking coastlines, through cosy little villages and past several breathtaking sights. This trail was created in 2016 and is well known by most hikers. This trail is suitable for families, friends and for skilled hikers.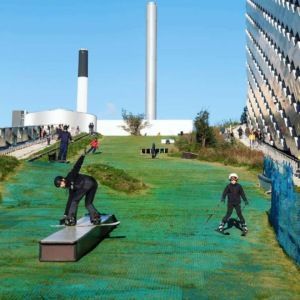 FURTHER AFIELD
On safari in Lolland
Open since 1969, Knuthenborg Safaripark (Knuthenborg Alle 1, Maribo) is the largest of its kind in northern Europe, spreading over an area of 660 hectares. Along with the large areas in which the animals stroll around freely, the site also has a large amusement park, informative exhibitions and activities. As well as the animals, dinosaurs and other prehistoric beasts are also a focus. After perusing the sights, why not enjoy a delicious gourmet meal with a view of the savannah. And it's also worth bearing in mind that you can book an overnight stay in a tent on an elevated terrace two metres above ground-level, from where you can observe animals walking around below you, just like in real wildlife. Tickets, including family passes, can be bought online. 
The leisurely land of Lalandia 
Lalandia offers the ultimate family experience – a getaway filled with fun or relaxation, it's all up to you. It's perfect for day trips or longer stays in one of the centre's handily located family cottages. The top attraction is probably 'The Aquadome', a massive waterpark filled with thrilling water slides, swimming pools, jacuzzis, and an area for the little ones. Winter World, meanwhile, offers an ice rink, ski slopes and a climbing wall, the Monky Tonky Land is a huge indoor playland, and there are also opportunities to go bowling, play mini-golf and enjoy other indoor activities. Lalandia has locations in Billund (Ellehammers Alle 3) and Rødby (Lalandia Centret 1).
Play well? Nobody does it better!
Built out of more than 20 million Lego bricks, Legoland in Billund (Nordmarksvej 9) is a top draw for the entire family. Children, and some adults too, will love the more than 50 thrilling rides that are divided into themed sections in the park, including the 'Imagination Zone' and 'Ninjago World'. The 'multicenter' offers 4D cinema experiences, a  Nintendo gaming zone, and many other attractions. Multiple shows and events are hosted regularly throughout the year for the little ones to enjoy. Tickets to Legoland, including accommodation, and daily and seasonal passes, can be bought online. For Lego-obsessed kids, this is a once-in-a-life chance to encounter a life-sized version of the buildings they are more used to making out of tiny bricks at home.