Four youths and a dog fell through the ice at a lagoon at Amager Strandpark on Saturday -– at approximately 14:15. 
Although it was too deep to stand, all four, plus the dog, managed to get out.
Not in time to save them but called nonetheless, the police then turned up to give them a thorough ticking off.
The incident further underlines the police's concern that the public are venturing out onto ice that has not been marked as safe by the local municipality.
Hard to see a sign through a wall of bodies
However, at the City Lakes, the police seemed more concerned with lining their pockets with 1,000 kroner fines than actually looking out for the safety of the public. And it is easy for the public to get confused. 
With thousands of Copenhageners contravening the coronavirus-gathering restrictions, it is virtually impossible to see the municipal signs at the edge of the lake through the wall of bodies.
Furthermore, ice walking should be permitted when the ice is a minimum 16 cm thick, and already at the Lakes, after over a week of continuous ice days, the thickness is around 40 cm. However, it is not in the municipality's interest to green-light everywhere that is safe.
In addition, red tape has been placed in several locations on lakes where ice walking is permitted, so for those not fully versed on the rules, it's an easy mistake to make to walk on ice just 100 metres from where thousands are gathered.
"We're kind of used to walking on ice in Canada"
CPH POST heard from one individual, Ted, a Canadian national who declined to give his full name, who could not believe how he was treated by police officers who fined him and his partner 1,000 kroner each for walking on perfectly safe ice.
"Carrying on from the northern part of Sankt Jørgens Sø, we presumed the southern part was fine too – particularly as we saw around 20 others on the lake as well. We even checked the municipality's website, but maybe the word 'Sø' caught us out – my partner thought it meant south!" he said.
"Anyhow, we tried to explain this to the female police officer who called us over, but as soon as she detected we were foreign, she just asked us for our IDs like we were criminals. She certainly wasn't concerned for our safety," he said.
"I don't want to blow my own horn, but we're kind of used to walking on ice in Canada, and the idea we were in any danger is crazy. The only criminals in my view were the police officers and this endemic pursuit of fining people for petty offences because they don't want to tackle real crime. How about fining people for gathering in their thousands … no, this was a far more important use of their precious time."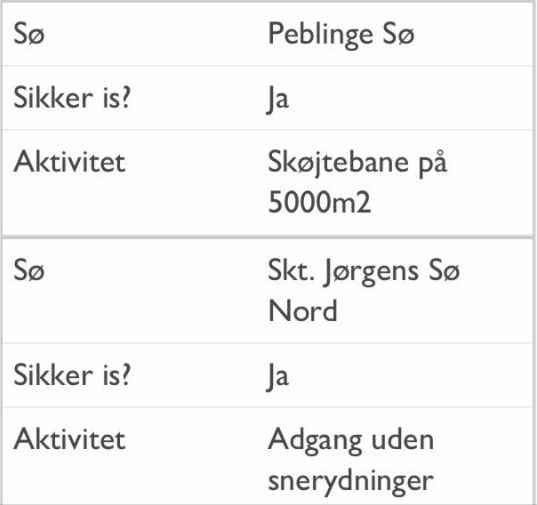 ---
Homeless magazine dismayed by link to Men in Black demos
The homeless magazine Hus Forbi has denied it submitted an individual to be a key speaker at the latest weekly Men in Black demonstration, which again took place at Rådhuspladsen on Saturday, but this time during the afternoon. The demo made a point of offering homeless people clothes, blankets, food and a free haircut under the slogan 'når staten svigter de udsatte, må folket træde til' (when the state fails the vulnerable, the people must step in) and on a poster it claimed one of the key speakers would be from Hus Forbi – a claim the magazine angrily denies. "Men in Black's message is in direct conflict with our efforts to ensure that homeless and socially disadvantaged people are offered vaccines," it said. "Hus Forbi supports the authorities' efforts to keep COVID-19 under control." However, it is believed that one of the speakers was a Hus Forbi board member who agreed to speak as a private individual.
Young woman charged with 61-year-old partner's murder
A 27-year-old Greenlandic woman appeared in Roskilde Court today to be officially charged with the murder of a 61-year-old man, who it is belived was her partner, in the southern Greater Copenhagen suburb of Solrød Strand. His body was discovered on Sunday after a friend visited his home and alerted the authorities. It is not known how long he had been dead. The woman has pleaded not guilty. 
Four charged with attempted manslaughter after Frederiksberg shooting
Four young people aged 20-24, three men and a woman, were arrested on Saturday morning in connection with a shooting at an address on the Frederiksberg road of Wilkensvej at 07.14. The four suspects were stopped in a black Mercedes om Roskildevej almost three hours later. Two shots were fired in the incident, and it is believed the quartet have been charged with attempted manslaughter. The police have not confirmed whether the shooting was gang-related or if anyone was harmed.
Syrian links continue as more news of terror suspects emerges
More news has emerged about the huge anti-terror operation involving the police forces in both Denmark and Germany, which has this month led to 14 arrests, but not an awful lot! More rumours connecting many of the suspects to Syria have been circulating, and it is believed they had a "militant Islamist motive". In addition to three men of Syrian descent among those arrested, who are believed to be brothers, are another three Syrian siblings who moved to Denmark from a suburb of Damascus in the mid-2010s: a woman in her early-40s and two men in their early-30s and mid-20s. Another man with a Syrian background who lives in Malmö has also been arrested.
Man drives car around Tivoli Hotel reception after smashing though facade
A 45-year-old man was arrested after driving a car through the glass facade of the Tivoli Hotel on Arni Magnussons Gade in central Copenhagen at around 23:25 on Saturday night. Once inside, the man then drove his small Mazda around the reception area, where he was detained by some of the hotel staff. The police suspect the individual, who is reportedly banned from driving, was under the influence of alcohol or drugs – or possibly both. The hotel's duty manager Henrik Svejstrup told TV2 that the act was deliberate. "It's not the kind of place where you can take a wrong turn," he said.