Most fans around the stadiums during Euro 2020 were likely intensely focused on the games at hand.
But there were another group of individuals present: youngsters busy typing, recording video and snapping photos – a new generation of sports journalists!
These wordsmiths brought millions of readers into the fray as the matches unfolded. They worked tirelessly to convey the action to their readers − in newspapers, websites, blogs … you name it.
Journos of the future
At Euro 2020, thanks to Gazprom's International Children's Social Programme Football for Friendship, some of those conjuring up words and images during the games were children from Euro 2020 News Bureau, who reported on all the championship matches for their millions of peers worldwide. 
As Young Ambassadors of the Football for Friendship Programme, they covered the events of the Championship through the prism of the nine values shared by the millions of Programme participants: friendship, equality, justice, health, peace, loyalty, victory, tradition, and honour.
Experience of a lifetime
In Copenhagen, like in every one of the hosting cities, 12 aspiring sports journalists were given the opportunity to attend the four Euro 2020 games being hosted in Parken Stadium. Afterwards, they recounted the many sights, sounds and experiences.
One of the key aspects of the initiative is for the kids to learn about current trends in sports and mobile journalism − its benefits, as well as challenges at the School of Nine Values of the Football for Friendship Programme.
For instance, how does one juggle the often demanding balance of quickly producing content while being surrounded by the unbridled atmosphere that football games produce?
To this end, the studious teens conjured up some 'life hacks' − tips that they found could help them cover the matches while they were on the go.
---
Noah & Mathias Bachmann Funch (both age 13) – Denmark vs Russia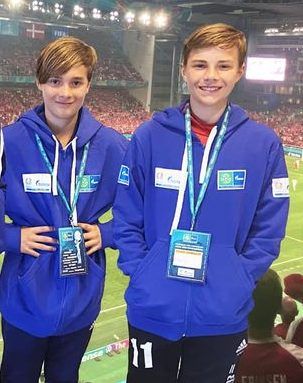 "It was the best experience I've ever had. I was so happy because Denmark won 4-1 over Russia and Belgium won 2-0 over Finland. That meant that Denmark ended up in second place in group B and they are going to play against Wales on Saturday," wrote Mathias.
"Another thing that happened was a Danish guy who said: 'I lost my friend, he is wearing red and white'. I am very happy that I got the opportunity to watch the game, it was the greatest experience," noted Noah.
"Today, with the internet literally on our fingertips, using mobile devices has become a way to convey journalistic topics. This can come in examples of mobile videos, pictures and live-streams on social media like Instagram, TikTok, and Facebook. With such a large audience available and the popularity of social media increasing, the usage of mobile journalism also continues to grow."
Life hacks:
– Voice message: You can use your phone to make a voice message, like an interview
– On the move: Take notes on the move
– Video: Record videos (for example an interview) on your phone.
– Photos: Take some photos with your phone»
– Shoot in Landscape
– Use the Grid Composition to Follow the Rule Of Thirds
– Use the Editing Tools Provided on your Phone to Edit
---
Robin Ozdal Chelik (left, age 12), Gustav Emil Trane Larsen (age 12) and Kevin Kaan Celik (age 13) – Denmark vs Belgium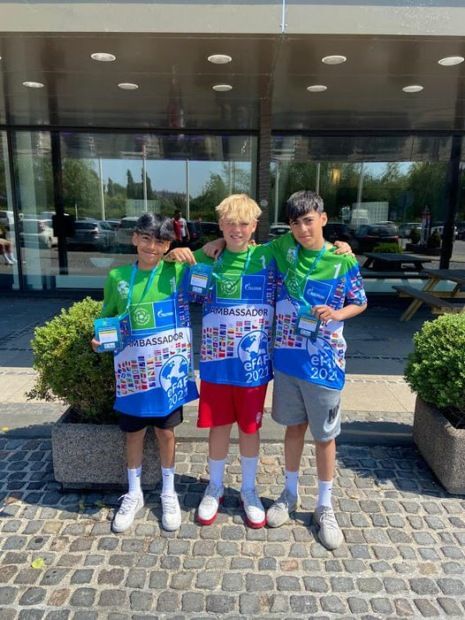 "An unforgettable experience. All the Danish fans were really happy. Everybody was singing and everyone was in a really good mood. In the 10th minute of the match it was stopped and everybody began to clap for Christian Eriksen. Denmark was really good in the first half.
Denmark kept playing and tried to get a goal. They were close many times. One time Martin Braithwaite hit the crossbar. The final score remained 1-2, and Lukaku was called the star of the match.
After the game the Danish fans were still in a good mood and had a lot of fun. This was a very good and fun experience which I will never forget. I had a very good day."
---
Ahmed Kamil (age 13) – Denmark vs Finland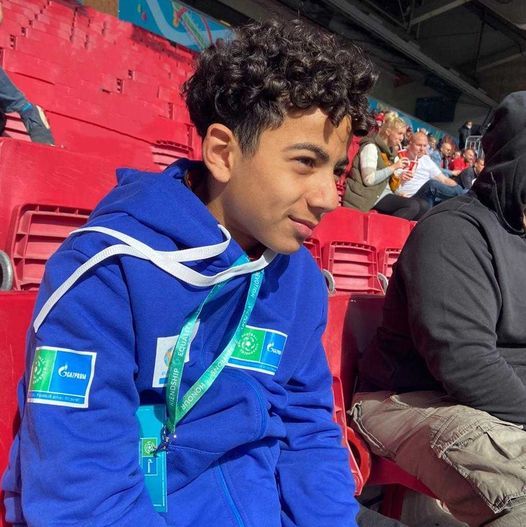 "Thank God, Simon Kjær saved his life, he made sure that Christian Eriksen didn't swallow his tongue and laid him in the right position. This was a very sad and traumatising episode to see. The audience acted perfectly. They chanted 'Christian' and the reply from the Danes was 'Eriksen'. 
I sat beside a man who started chanting, while he was being carried off the field. What a feeling that ran inside my body. It wasn't a two-team audience anymore; everybody was chanting as one 'Christian Eriksen'.
When the match continued the team of Finland gave an applause to their competitors from Denmark in order to respect their decision to continue playing. 
And honestly the further result of the game didn't matter. The main thing was that Christian Eriksen was alive and stable.
This situation reminds us that professional sport when people work at the limits of their capability sometimes may be dangerous and how important the role of the support and unity in football is."
---
Frederikke Bjørn-Døssing (age 14) – Denmark vs Russia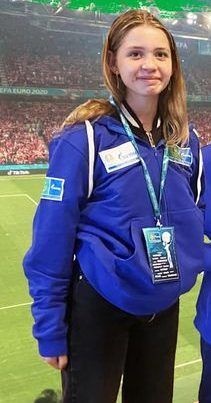 "I remember watching my dad jumping around just like a little child who just got a big ice cream. I also remember my thoughts that the rain started suddenly, but then I realized that it was beer which was spilled by the fans.
As we left Parken Statium, fans were still celebrating, dancing, singing and drinking. As we went back to the hotel, I was thinking that it was one of the biggest experiences in my life, the one to tell my family, classmates and friends.
So many Danes would have loved to be at Parken Stadium this particular day, but I was the lucky one."
Life hacks:
– Be situated at a good site at the stadium. A good view is important
– Have a mobile phone of a certain quality, and a good internet connection so pictures and sound are good
– Distance yourself a bit emotionally from the game. It is very difficult to do a good job reporting if your emotions and feelings are all over the place. You need to be able to focus and stay calm