Aveen Mohamed Issa, 20, took to the stage at a demonstration against the forced repatriation of Syrian refugees in central Aarhus on May 18, delivering a speech to hundreds of fellow protesters. 
It was a chance for Issa to air an opinion shared by her family, hundreds of Syrian refugees and an increasing number of Danes: the situation in Syria is anything but safe. 
It is the reasoning the government is using for strict immigration policies that have resulted in the withdrawal of many Syrian refugees' temporary residency permits.
May 18 also saw protests take place in Copenhagen, Odense, Aalborg and 20 other cities and towns, while hundreds of Syrian refugees continue to demonstrate in front of the Danish Parliament every day.
Broken promises and families
"Both my dad and my brother were politically persecuted. If anyone in your family is persecuted, you risk being sent to jail, and tortured, and finally killed," she remarked to applause. 
Growing up in Damascus, Issa and her family escaped war-torn Syria in 2016. For several years, the family have been living in Nørager – the northern part of Denmark – where they rebuilt their lives, although her father sadly passed away not long after arriving in Denmark.
"I don't want to lose my family again just because of their illogical evaluation about the safety in Syria," she remarked.
Now, Issa, her mother and her sibling have to return to Syria as the Danish government has declined giving them residence permit extensions, declaring Damascus a safe place to return to.
The right signalling
Along with Issa, Syrian refugee and activist Rahima Abdullah also delivered a speech. She called out Danish PM Mette Frederiksen for the Eid Facebook post she made on May 12 in which she proudly wrote that the current government, unlike their predecessors, does not celebrate the tightening of immigration laws with cake. 
"The prime minister wrote that 'we don't celebrate stricter laws with cake', but this is the only difference between this and the past government," she remarked. "I feel sad that both red and blue parties are running the same policies on immigration. It is difficult to tell them apart."
Last year in February, for example, the blue bloc's figurehead party Venstre suggested an agreement with Assad's regime regarding repatriation, but the ruling Socialdemokratiet party called the suggestion "the wrong signal". 
A year later, though, the government would appear to have found the right one.
Where will be next?
So far, the Syrian refugees denied extensions to live here have all been from the Damascus area, but nobody knows what the government might do next.
"I feel like it's coming soon for me," despaired Copenhagen-based Syrian activist Agob Yacoub, who comes from Al-Hasakah in the north of the country, despite his valid residence permit.
Yacoub is concerned by the recent re-election of dictator Bashir Al Assad, which means he will remain in power for the next seven years. 
"They [Western countries] say that Assad is a dictator, but it doesn't seem to mean anything to them that they are sending back people to a dictator," he reasoned. 
Proof's in the numbers
Nevertheless, since taking power in 2019, PM Mette Frederiksen has been targeting zero asylum-seekers in Denmark, and recent figures suggest she is not so far off her goal. 
Last year only 1,547 people applied – the lowest number since 1998 – and the government only granted asylum to 1 percent of them, compared to 11 percent and 88 percent in neighboring Sweden and Germany respectively.
The minister for immigration and integration, Mattias Tesfaye, conceded it was "partly because of COVID-19 … but also thanks to our tight foreign policy".
Which sounds remarkably similar to "Let's have some cake". 
"Don't come to Denmark"
"The whole idea is to send a message to both refugees who are here and people who are not here yet: Don't come to Denmark," Karen Nielsen Breidahl, an associate professor in political science at Aalborg University, told the Cristian Science Monitor.
"Of course you can't just say that you don't want refugees. There are EU, international agreements and conventions," concurred Yacoub. 
"There will always be people fleeing persecution, and now they know Denmark is such a terrible country when it comes to asylum-seekers. Here, you will always be temporary."
New law another blow
The latest signal on tough immigration came to life in early June when Parliament passed a law allowing refugees to be processed abroad. 
The EU calls this a highly controversial plan that causes serious concerns over human rights and legal guarantees.
"In the dictatorship, they were killing us. And here in democracy, they don't let us live," Yacoub said.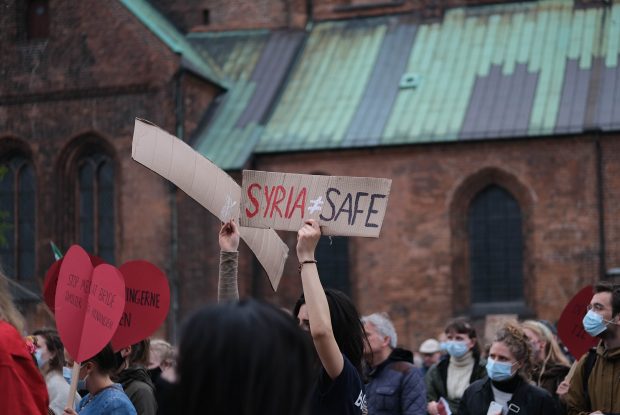 International condemnation
As the first country to sign the UN Refugee Convention in 1951, Denmark has swung so far right that today it is drawing criticism from international human rights organisations.
The Nordic UNHCR in a letter recently urged Denmark to accept a higher number of resettled refugees, to stop revoking permits, to ease access to family reunification processes, and to forget its plans for asylum processing outside Europe.
Analysts, researchers, and experts on Syria recently released a joint statement published by the Human Rights Watch questioning and demanding that the government revise its conclusion as "safe return to Syria does not presently exist".
It seems that protests, international condemnations, social media activism have not done enough to change the Danish government's harsh policies on immigration. The question now is what people can do about it.
Power of the people
"All these initiatives, demonstrations … it might make a difference, it might change something," mused Yacoub.
After seeing so many Danish people on the streets demanding the Syrian refugees' right to safety, Issa believes there are still people with a sense of justice who will help Denmark make the right decision. 
 "Thank you so much for coming to the demonstration and being with us," she said.