'The Establishment', a cultural institution, a LGBTI+ stronghold, a beacon of inclusivity, a mental institution – a favourite child has many names. 
And next year, Cafe Intime, situated in Frederiksberg, can celebrate its centenary. It has been both a speakeasy and a wine restaurant, but today is primarily known as a gay bar with live entertainment – a gay bar perhaps because it was previously furnished with closed booths only supervised by the barman, and it attracted men who had to conceal their sexuality in Denmark at that time.
But it's certainly not exclusively gay. There are just as many heterosexuals and people of other sexual orientation who frequent the place.
Years gone bye
Just entering Cafe Intime, it feels as if the velvet stage curtains that hang in the entrance are drawn aside just to put you into its centre to witness a performance that harkens back to another era than 2021.
Cafe Intime is known for its creativity, live music, jazz, songs and entertainment, and for decades there has been a tradition for a pianist to play a set of evergreens and nostalgic music every weekend. For many years the entertainer Ole Palmkvist Knudsen, whose voice is reminiscent of an old-style wind-up gramophone record, has been firmly ensconced behind the piano, entrancing audiences with songs and music.
During the week, Cafe Intime has an open microphone where you can sing your own or other people's songs or read your own poetry. Themed evenings, such as 'The Song has Wings', are common, where the special focus might be, for example, good old songs, ballads, numbers from musicals, Eurovision Song Contest hits or opera. Or there is the 'Happy Singers Evening' where all musical styles are welcome. At both evenings there are professional musicians available as accompanists. While 'Magic Monday' is the evening when Cafe Intime can transform you through dressing up in wigs or other enchanted costumes.
A hive of activity
Before embarking on successful careers, many musicians and singers used to drop in on Cafe Intime. Perhaps they used the place to hone their craft and rehearse their own songs and music. 
There aren't many places in town where you can wander in off the street and join professional musicians – maybe with your own dreams of a singing career at the back of your mind. There are both amateurs and professionals, known and unknown people, all with a common desire to freely express themselves, creatively and true to their sexuality. 
The mix of humanity that this puts together makes it a really attractive place to enjoy a drink, be it a glass of wine or a beer – always served in glasses because here they don't drink from the bottle! Candlelit round tables adorned with fresh flowers are part of the cosy atmosphere. And the bar prices are very reasonable considering you don't pay an entrance fee at any time.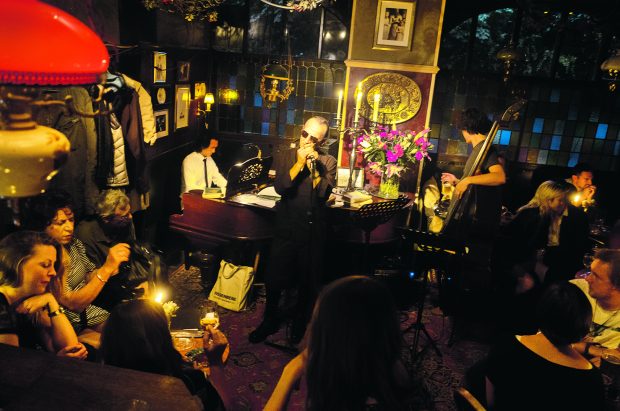 Just like a movie set
Cafe Intime looks exactly like a scene from a bar in the 1986 Danish film 'Take it Easy'. It's a film about the great Danish jazz musician Leo Mathisen, who was born in 1906 and during the German Occupation performed at Restaurant München in Copenhagen. This was a popular place in its day – just as Cafe Intime is now – with equally eminent pianists such as Lars Emil Riis Madsen.
Cafe Intime is also reminiscent of places such as 'Don't tell Mama' in Manhattan, a popular and well-known gay bar with live music and the opportunity to perform or come to a concert.
One of the very biggest Danish stars, Anita Lerche, loved coming to sing at Cafe Intime. Today she lives in the United States where she has continued her international singing career. 
It's also a favourite hang-out for photographers such as Jacob Stage, Ángel David Castillo and Magnus Cederlund to zoom in on the guests or the atmosphere. In 2020, Cederlund published the very well-received photo book 'INTIME' with photos of some of the many regulars and characters who have frequented the bar for a number of years – or just dropped in on a flying visit from abroad. Cafe Intime has also been used as a backdrop for many music videos, films or series.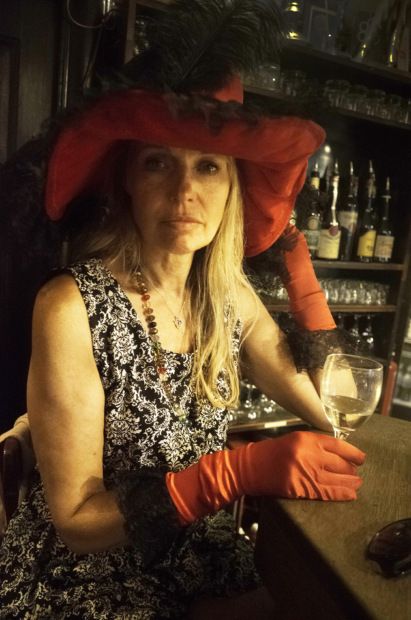 Like a family
The Cafe Intime family welcomes people who are different – or just have no family. This inclusivity makes Cafe Intime so much more than just a pub; it has a place in people's hearts. There is  always a civil tone and very rarely any trouble, and children and dogs are also welcome.
Cafe Intime means so much to so many people that if it were to go bankrupt or its concept were to change, it would be like a queen bee suddenly being killed in a hive. This means there is a lot of backing from the regulars, so the place is preserved and the atmosphere continues now as it has done for many decades.
Support from within
For the past several years in the run-up to Pride the current owners have served breakfast. Also, at one point, a couple of the regulars, Malin Anna Maria Birch-Jensen and Maria Holm, theatrical make-up artists from the Royal Theatre, gave their services free of charge to transform people into small masterpieces. These lucky people were then able to take part in the annual Pride parade with the fanciest hair and most fantastic costumes, in the most beautiful colours.
In a more recent gesture of support, Thomas Winkler, the in-house artist at Cafe Intime as well as being Tivoli's in-house artist, created a special signed limited-edition print for sale in connection with the corona crisis. The 100 signed prints are nearly all gone.
Cafe Intime's guests are understandably looking forward to the time when music, entertainment and singing will once again be permitted without restrictions, as it has felt completely hollow during the corona pandemic.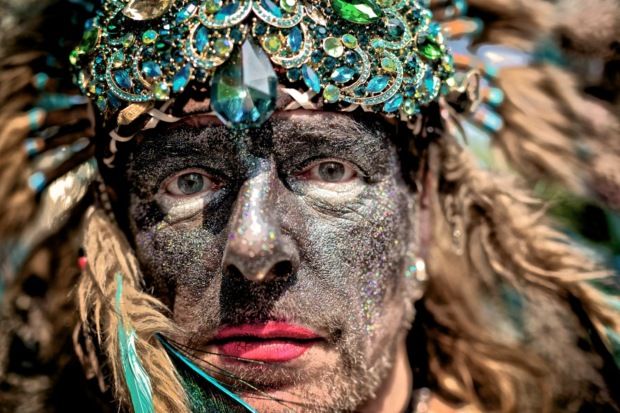 Anything but ordinary
The place can never be just an ordinary pub where people get plastered and go home empty-headed. At Cafe Intime the guests provide and breathe the very special atmosphere and feeling. 
This is naturally supported by a couple of philanthropic owners for whom profit is not the issue. You certainly couldn't call Cafe Intime a money-machine; ends just about meet, and it is one of the only places in Denmark where musicians and singers often play 'con amore' rather than for full rates.
Find out more about Cafe Intime online: via Istagram @cafeintimecph, Facebook, or its website cafeintime.dk