Following a couple of rather meagre years for Danish teams in European football, this season could help turn the tide.
With Brøndby, FC Copenhagen, FC Midtjylland and Randers all participating in European competition group stages, there is ample opportunity to make up lost ground in the European coefficient rankings.
FC Midtjylland and reigning Superliga champions Brøndby lost out in the Champions League qualifiers, but will have a chance in the Europa League instead.
And with both teams seeded fourth the draw was always going to offer up some stern opposition. 
But it ended up being a decent draw, with Brøndby going into Group A with Lyon, Rangers and Sparta Prague.
It was even better for FC Midtjylland, who will take on the likes of Braga, Red Star Belgrade and Ludogorets in Group F.
Lions and Blue Horses ready
Meanwhile, FC Copenhagen and Danish Cup holders Randers were involved in the group stage draw in the inaugural Conference League.
FC Copenhagen, a top seed in the draw, will face PAOK Thessaloniki, Slovan Bratislava and Lincoln Red Imps in Group F.
And Randers, another fourth seed, will match up against AZ Alkmaar, Cluj and Jablonec in Group D.
READ ALSO: National team coach concerned about increasing foreign ownership of Danish clubs
Points desperately needed
Denmark needs every point it can get on the UEFA coefficient list, which is based on performances over the past five years in Europe.
Currently, Denmark sits 23rd, but can make up lost ground this season because of the many teams still in contention and the few number competing nations have.
For instance, Sweden, Norway, Greece and Israel (ranked 19-22) all have either two or only one team left to get points. 
And the teams ranked 15-18, Croatia (1), Cyprus (2), Turkey and the Czech Republic (both 3), all have fewer teams participating too. 
Basically, Denmark needs some strong results this season, and probably a long run from one of the teams, to make up the lost ground.
Europa League: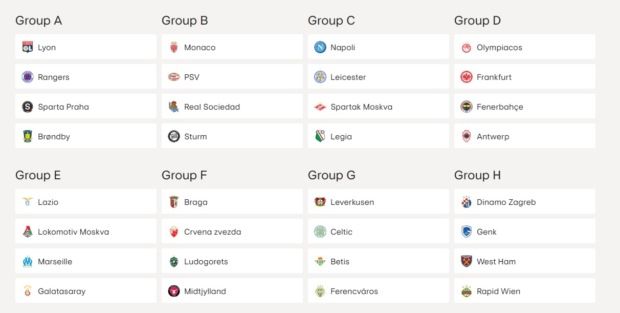 Conference League: