As quaint as they might initially seem, most Danish customs tend to be Scandinavian-wide and not unique to this fair land.

Suitably located
One such example is the 'sut træ' in Frederiksberg Have. Originally conceived in Stockholm, it's where dummies (or pacifiers, depending on your vantage point of the Atlantic) come to die – a solemn rite of passage that one of my kids embarked on 17 times. Still, at least she doesn't suck her thumb.
Elephants, too, are famous for their graveyards (elusive to everyone but Tarzan, apparently), so it's apt to find one parked 300 metres from the sut træ just outside the Smallegade entrance to the park.
Bon bon appetit
The elephant in question is Bon Bon, the 'owner' of an ice-cream parlour that has rejigged its menu for the 2017 summer season. Purchased by Globe owner Brian McKenna as part of the 2011 Elephant Parade charity art initiative, there was only one choice of name when his wife Nikki opened the doors in 2014.
Unlike Nellie, his trunk is painted not packed, and upon entering his vibrancy makes way for a tasteful wooden/brickwork interior – or at least until you're greeted by the pop art colours on display in the ice cream counter.
A line-up including key lime cheesecake, mango mint, white chocolate basil and a pleasantly salty, crunchy peanut option will make it hard to select just one, so it's just as well that's it's only 8 kroner a scoop after the initial 30 kroner purchase.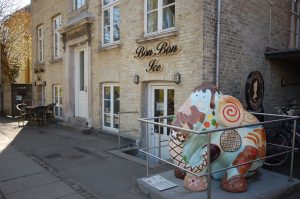 Sorry Jægerspris!
Like all the products, the cones are homemade – look out for news of kids party workshops, learning how to make cones and ice cream and about the food's history, on Bon Bon's website and Facebook page.
The quality is not lost on my daughter Billie,9, whose flavour of choice was raspberry and hitherto favourite 'is' of all time was purchased in Jægerspris, northern Zealand's mecca for ice cream lovers – every time she goes to visit her grandparents in fact.
"I'm sorry Jægerspris, it's not my fault, but this is better," she said, licking her fingers, but not, I repeat not, sucking her thumb.
Nodding in agreement is big sis Karla, 13, who added: "Sometimes when you eat ice cream you can't identify the flavour, but here you can really taste it."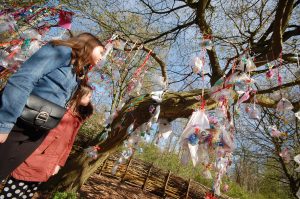 When Cruise was tall
Daddy Hamilton, meanwhile, had opted for the Killer Vanilla milkshake – part of a new adult range recently tried and tested by Nikki and her crew, which also includes a Chocolate Overload and Pistachio Dream. At 48 kroner, this is a '5 dollar shake' that even Vincent Vega would agree is worth the asking price – with kooties.
Unlike the thick ice cream-based numbers served to the kids, the emphasis is very much on making this milky and not overdoing the sweetness – and for once a vacuum cleaner isn't required to get this baby started. It's still got a slurp sensation, but it's also palate-cleansing – a commendable effort!
Now this 80s kid couldn't resist the Knickerbocker Glory – a steal for 55 kroner. Granted, it wasn't as goliath as the ones that haunted my youth, but even Tom Cruise looked tall back then. An obligatorily lengthy glass and spoon, fresh fruit and vanilla ice cream deliver a blast from the past, but without the sickly syrup that tastes like nectar until you hit the age of 11.
Wunderbar waffles
And finally – I had help from the now coneless couple – a jumbo-sized Belgian waffle served with soft ice that takes your Tivoli/Strøget run of the mill and quadruples the oomph factor. It was, Karla observed, "simply the best I've ever had", as I pondered whether sharing was the worst decision I've ever made.
In fact, I cried for the rest of the afternoon, so it was just as well we visited the sut træ afterwards.