A peculiar anxiety often hangs over meals before the order is placed. It could be that a friend is ordering something a little out there, which could either be better or worse than my own choice. Or do you listen to your inner voice: "I've had this before, I really should try something else … but it was so good" – a not uncommon response to the perilous business of ordering a single dish.
Insofar as you can never really make a stuck-in-their-ways eater shed their dogmatic curse, Café Livingstone gives them a pretty good get-out regardless: choose a selection of small dishes and sample them all.
In truth, this isn't a new concept, though it is an unusual one to find so well-executed. Evaluate the state of your current appetite – small or large – and tick the five or seven boxes of the dishes you'd like.
Exploring the Lakes
Getting through either the small or large spread certainly makes for a long morning, and there might be no better location to do this than sat aside the famous Lakes, speckled sun matching the odd jogger and cyclist who ventures that far north up the Sortedams Sø.
What is, and should be, the most impressive element of the experience is the food itself. Danish classics such as baskets of fresh rye bread, cinnamon rolls, buttermilk koldskål – accompanied by a seriously good blueberry compote – are present, often with their own little twist. This is alongside the more unusual Moroccan sausages, egg soufflés and flatbread with soft cheese.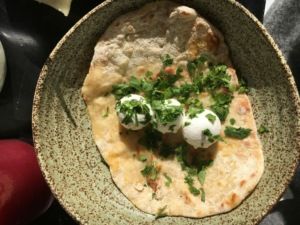 The intrepid traveller
The tasty spread is granted an exceptional asceticism through a nouveau-rustic interior and an array of beautiful plates and mugs to match.
Tom Hale, the café's manager, confirmed this was indeed a conscious product of meticulous design. Everything – whether it be the chairs, plates or cutlery – has been expertly curated from the travels of Hale and his partner.
And his own sources of inspiration are not in short supply. Having originally completed his BFA in theatre at the University of Texas, Austin, Hale has remained active in theatre ever since, whilst managed fine dining restaurants in Los Angeles, New York and Copenhagen.
This is in addition to recently completing his second term as vice-chair of Democrats Abroad – a huge responsibility given that their members live in over 190 countries in the world and garner eight seats at the national convention, which nominates the party's presidential candidate.
A local touch
For the moment, however, Hale's commitment appears firmly rooted in the Livingstone project, and his passion for the details of the restaurant are impressively numbered. For one, all the coffee is imported from a single Guatemalan farm, and these close links both help guarantee continuity in high-quality coffee and support the farmer in the process.
To a certain extent these exceptional facets to the business-model are reflected in the price – for example, a juice and coffee will cost 70kr. But the detail that goes into each dish renders the price of the five and seven-dish options far from unreasonable. The restaurant itself seemed bustling with Danes who visit regularly, clearly sufficiently impressed to pay slightly above the standard brunch price.