It's late afternoon in Abu Tor district, central Jerusalem. At the plush headquarters of home-grown VC firm JVP (Jerusalem Venture Partners), author and one-time news editor Saul Singer stands in front of a crowd of travel-weary European journalists.
"Israel is the startup nation," he quietly proclaims, allowing this profound statement to hang in the room's warm, humid air so that his audience can fully gauge its meaning.
These words are directly tapped from the title of a book he co-wrote with the US columnist and political advisor Dan Senor. Their work, published in 2009, documents reasons for why Israel produces more entrepreneurial ventures per year than countries such as Canada, UK and Japan – despite its low population and role amid numerous inter-state conflicts since unification in 1948.
The Danish connection
This burgeoning startup scene, supported by the state's vast R&D expenditure, is compelling international governments to buy into the country's booming economy.
And Denmark is one of the key countries to recently improve its local business development strategy, establishing a dedicated 'innovation centre' in Tel Aviv in 2016.
"We decided to have an innovation centre because we were doing a lot of the traditional trade tasks [at the Danish embassy] – assisting companies coming into the market in term of finding customers or partners," explained Louise Vibjerg Thomsen, the Danish commercial councillor and head innovation officer in Tel Aviv, to CPH POST.
However, Thomsen contends that Denmark's ability to facilitate this work in Israel was greatly increased with the creation of the innovation.
"[At the innovation centre], we can offer Danish companies and institutions the whole process, from the point when they have an idea for a product or a company, all the way to them exporting. So, it gives us the opportunity to help companies even more," continued Thomsen.
This assistance, she demonstrates, is not limited to private initiatives but was also designed to smooth out issues incurred within inter-state bureaucratic processes.
"Government to government there's a lot of work," Vibjerg Thomsen disclosed.
"For example, now that we're so much into the fintech and the healthcare [industries], there's a lot of regulation that needs to be in place to create the whole framework that actually allows companies to interact across borders. So, we're also part of helping to facilitate putting these frameworks in place."
East meets West
The talk of Israel's excelling startup environment is backed by players in major industries. On April 26, Danish shipping giant Maersk will open a joint venture with a local innovation group, TheDOCK, in the port city of Haifa. With this move, the company hopes to find specialist entrepreneurs emerging within Israel's marine-tech sector.
"We are looking for startups that see value in Maersk as a partner rather than a customer, partnering where we bring much more value than just capital," Thomas Hougaard, a venture partner with the Maersk Group, stated in a press release.
"We are excited about working with TheDock to help identify the right companies that want to join us on this journey."
Furthermore, Israeli entrepreneurial ventures are also making their way into the Danish market. In early March, the startup Orcam launched its 'MyEye' technology in the country. The product helps those with partial or no vision to read text, pick out faces and identify products. As part of a deal struck with the government, the device will be free to those who need it through the national health service.
"If we're looking at the statistics and include those with reading difficulties and dyslexia, we estimate the product will benefit between 10 and 15 percent of society," revealed Liron Rosenbaum, the head of business development for Northern Europe, to CPH POST.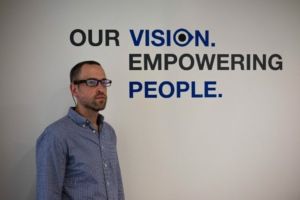 A win-lose situation
Israel's home-grown success story of its rise to global prosperity, backed by international government and industry leaders, heralds the nation as a global economic success. But, this triumphant narrative is one that selectively promotes one people's national history in lieu of another.
At the Max Rayne Hand in Hand Jerusalem Bilingual School, which welcomes Palestinian and Israeli students, the stark contradictions between the world views observed in each nation are powerfully juxtaposed.
"Growing up in America, when it was [Israeli] Independence Day, that was a date we celebrated in school. For Jewish people around the world this was a moment of a miracle, as we have a place where Jewish people can be safe – a really meaningful thing to my identity," Noa Yammer, the school's director of communications, told CPH POST.
"But, if I ask my friend Tama, who is Arabic and identifies as Palestinian, what happed in 1948, he says: 'The Nakba' [exodus]," she contended.
The Nakba was a catastrophe [for Tama's family] as they lived in a village in the north [of the country]. Jewish soldiers came, the family ran away, and then when they tried to come back, the village was gone," acknowledged Yammer. "All of their lands, everything they owned was gone and, of course, many people were also killed."
The school's staff are specially trained to provide their students with exercises in peaceful dialogue. But indiscriminate violence and human causalities are often the outcomes of fights for ownership of authenticate accounts of the past – most recently witnessed on the border between Gaza and Israel.
Is business just business?
Denmark does operate one local office in Ramallah, Palestine. In 2016, the government expanded its economic development, from an initial small-scale project in 2011, at the request of Palestinian authorities – with a focus on agriculture.
"The two development engagements will provide support to selected value chains, including high value fruits, vegetables, herbs, cereals, legumes and dairy, as well as sustainably improving income and labour productivity in small and medium-scale agribusinesses," explained Miral Al Far, the Danish deputy head of co-operation in Ramallah, to CPH POST.
"This will lead to employment creation, balanced economic development and improved competitiveness, as well as to entrepreneurship among women and youth," she contended.
Despite this, the Danish trade and investvent mission in Israel remains the most significant of its kind in the region. Nevertheless, the government sees its work as contributory to a future peaceful solution, rather than as actions that confer legitimacy to just one nation.
"Denmark's policy vis a vis Israel and the Palestinian Authorities remains firmly anchored in the belief that a two-state solution is a prerequisite for peace between Israel and Palestine," Charlotte Slente, the Danish ambassador to Israel, told CPH POST.
"The Danish government believes that engaging on a broad range of issues in no way impedes, and may even be a prerequisite for, a close dialogue on i.e the peace process," she continued.
"We therefore do not believe that engaging with Israel puts a hamper on the Danish voice and impact regarding the occupation of Gaza and the West Bank. On the contrary, we believe that the ability to take a stand is strengthened by this approach."