International football club Copenhagen Celtic is already braving the conditions and training for the start of next season, which this year will kick off in April and last until October.
The club has eight different teams, encompassing over 20 different nationalities and lots of age groups, including three teams catering to players over the age of 40. All three veteran teams play sevens football.
Another side, the old boys, is an over-33s sevens side, while there is no age limit for the remaining four teams (two 7s and two 11s).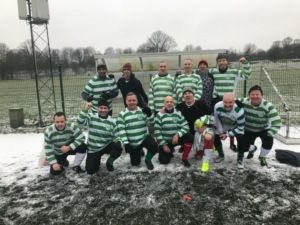 The side pictured above is actually an over-50s outfit that represents Copenhagen Celtic in a winter league: (top row, left-right) Luiz Santos da Silva, Martin O'Rourke, Ian Quintana, Stuart Murray, Tony Brown, Alastair Robertson, (bottom row, left-right) Chris Myers, Vernon Jones, Stevie Angus, Darren Beynon, Pete Denham, Jim McPherson and Mick Hayden.
If this motley crew has inspired you to brave the elements or join the club, why not get in touch via the club's website, copenhagenceltic.com, Facebook or email at copenhagenceltic@hotmail.com.
Or why not show up to one of their training sessions? Celtics currently train at Valby Idrætspark on Mondays at 20:30 and Thursdays at 20:30.