News
Historic Danish island for sale
---
This article is more than 8 years old.
Flakfortet off the coast near Copenhagen going for 56 million kroner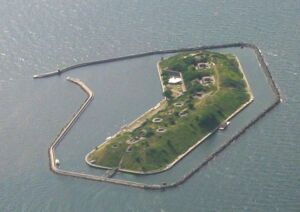 What do Johnny Depp, Shakira, Pamela Anderson, Leonardo DiCaprio, Mel Gibson, Julia Roberts, Steven Spielberg and Doctor Moreau have in common?
They all own their very own private island. And now, for a considerable fee, you could join their ranks.
The artificial island Flakfortet, located off the east coast of Denmark in Øresund Strait just six kilometres from Copenhagen, has been put up for sale for the 'paltry' price of 56 million kroner.
"We're talking about a fort that is completely reconditioned," Søren Heilersen – a partner at Claus Borg & Partner, the estate agent that has listed the island – told DR Nyheder.
"The island includes coastal protection, a renovated marina, conference facilities, restaurant seating for over 200 people and overnight stay possibilities in the form of apartments and rooms."
READ MORE: Buy your own Danish island
Copenhagen defences
Originally built in 1916, the island has been owned by the Swedish company Malmökranen AB – which proceeded to renovate it and use the island for team building events at the marina and other events – since 2001.
From 1916 to 1968, the island was utilised by the military as a rocket base and was, along with the other fortified islands of Middelgrundsfortet and Trekronerfortet, part of the sea defences of Copenhagen.
In February this year, Middelgrundsfortet island was sold for 20 million kroner to the national scout organisation, Det Danske Spejderkorps.
If the price tag of 56 million kroner is slightly out of your island-purchasing budget range, then perhaps look to Sweden, where islands are considerably more affordable.