News
Kierkegaard work now in orbit on the ISS
---
This article is more than 8 years old.
Astronaut Andreas Mogensen's luggage sent to space station includes philosopher's book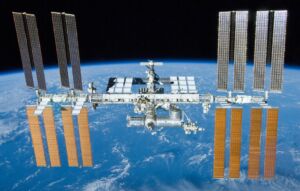 Andreas Mogensen, Denmark's first astronaut, is due to arrive at the International Space Station on September 2, but some of his luggage is already there.
As custom dictates, he has an allowance of a few precious kilos of personal items and, like many astronauts before him, he has taken the opportunity to send part of his culture out of this world.
READ MORE: Danish astronaut making final preparations for space
An original text by the philosopher Søren Kierkegaard, The Lilies of the Field and the Birds of the Air (Lilien paa Marken og Fuglen under Himlen), was sent with a Russian vessel and is now 400 kilometres above the Earth's surface aboard the ISS.
Professor Niels Jørgen Cappelørn of the Søren Kierkegaard Research Centre at the University of Copenhagen was involved in the selection of the text.
"When I was asked to choose a text by Søren Kierkegaard that should go with Andreas Mogensen into space, my thoughts went straight to this book," he said.
"It's about what people can learn from lilies and birds and has three main themes: silence, obedience and happiness. And it has 'passion' as a guiding principle, which is essential for a person who has devoted himself to the unique task of qualifying himself for a journey to space. In addition the texts are written to be read and immediately understood."