General
At cinemas: Saluting the new wizard of Oz
---
This article is more than 8 years old.
This week's pick is a real gift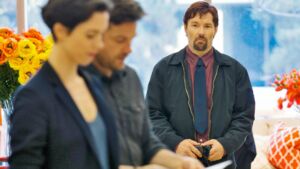 Joel Edgerton is a great Australian character actor whose name might not ring any bells, but you'd recognise his face from a ton of productions – from Star Wars to Zero Dark Thirty. This week he flexes his directorial muscle for the first time with The Gift. Centred around a young couple and a man from their past bearing unwanted secrets, it's a thriller with clout. From Edgerton's own script and starring him too, it's not clear yet if he's singing the theme tune but reviews have thus far been great.
Also out this week is The Reflektor Tapes, a short documentary feature (75 mins) about Arcade Fire and the process of creating the band's fourth studio album, 'Reflektor'.
DOPE is a coming-of-age story produced by Forest Whitaker and set in the dodgier corners of LA where a group of teenage geeks are determined to escape the trappings of their environment, but get caught up in a comedic crime caper. See this week's review.
Over at Cinemateket there's still time to catch the Peter Bogdanovich and Alain Delon seasons, and on Sunday at 15:00, the Danish On A Sunday series (Danish films with English subs) presents the 1988 Academy Award winner Babette's Feast. Babette, a fine cook and Parisian fugitive from the 1871 uprising, is taken into the poor fishing village home of two puritanical spinsters who consider all food beyond oatmeal sinful. When Babette by chance comes into money, she prepares the ultimate gourmet meal the whole village. Tickets are 45-70 kroner and an extra 40 kroner will get you coffee and a pastry. For Cinemateket's full program, see dfi.dk/Filmhuset.
The Buster film festival, which screens children or youth-related films for audiences of all ages, is still running at cinemas across the city until Sunday. There are features, shorts, documentaries and opportunities to meet the filmmakers. You can also take part in various workshops and events. See buster.dk
Finally this week, over at Gloria Bio you can catch The Visit, a Danish documentary that examines our potential courses of action in the event of making first contact with an alien race.