General
Film Review: The Walk
---
This article is more than 8 years old.
A cakewalk when it's been sponged and done before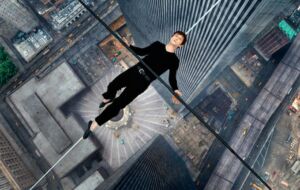 His strange obsession with uncanny valley CGI firmly behind him, Robert Zemeckis (Back To The Future, Forest Gump, The Polar Express) brings us a dramatic account of the real-life events that, in 1974, led to a tightrope-walking Frenchman, Phillipe Petit, laying wire between the World Trade Center's twin towers and crossing the 140ft distance between them – at a height of 1,368ft. To achieve a feat so dangerous and, not to mention, illegal, requires a little bit of craziness and a lot of balls.
A few wires crossed
Filmed in IMAX 3D, the trailers boast "an experience unlike anything else". If one were to invoke the trade descriptions act, they might have a case. James Marsh, the director of the 2008 documentary Man on Wire – which covers precisely the same narrative ground – might also have something to say.
If that Oscar-winning film is still fresh in your memory, you might be reluctant to tarnish it with Joseph Gordon-Levitt doing his best impersonation of a straight-off-the-plane Parisian. With an overly enthusiastic 'Fronch arksont' that would be perfectly at home in an episode of 'Allo 'Allo!, Gordon-Levitt takes a little acclimatising to.
A tight team
That said, I'm a fan of JGL, and while it would have been preferable to see a Frenchman in the role, he once again proves himself one of the most reliable talents of his generation.
Similarly Ben Kingsley, albeit of another generation entirely, provides crucial gravitas – which comes easily when you have been 60 years old for the last two decades.
Kingsley plays Papa Rudy, a seasoned circus high-wire walker and Petit's mentor-cum-father figure. Many of the best scenes are shared between these two as the New York trip is planned meticulously back in France.
High ambition, deep themes
Scenes from The Walk constantly evoke their counterparts in Man on Wire. That documentary was a profoundly moving cinema experience – one that, like Petit's walk itself, transcended its medium and contextual origins. It touched upon something innately human: the relentless dedication to one's dreams and the defiant conquering of rational fear, to push beyond the constraints of society and escape to the next level.
Petit's act itself, and Marsh's film in recounting it, communicated something simple and incredibly pure – something that isn't entirely easy to reiterate in words alone.
Vertigo-inducing effects
So how does The Walk shape up? Petit's death-defying act loses nothing of its power in Zemeckis's hands. To the veteran director's considerable credit, the walk remains a uniquely moving spectacle – only this time we get it in three dimensions.
The high wire scenes are excruciatingly tense, aided immeasurably by the IMAX 3D depth perception. At one point during the film, Petit drops his balancing pole and when it tumbles toward camera – I certainly wasn't alone in trying to dodge it.
The wire of Moulin Rouge
The shortfall of this telling is in its soft edges and jaunty deliverance – for example, there's little exploration of Petit's narcissism nor mention of his swift betrayal of long-suffering girlfriend Annie Allix. Instead, like Levitt's accent, everything has a touch of the caricature. It occasionally resembles Man on Wire by way of Moulin Rouge or Amelie.
Is this dramatisation ultimately necessary, given the effectiveness of Marsh's documentary? No. Is it successful? Mostly.