Things to do
Enjoying heavy-duty fruity beauties in the Bæst
---
This article is more than 8 years old.
Encounter a cocktail bar that's keeping it real for a change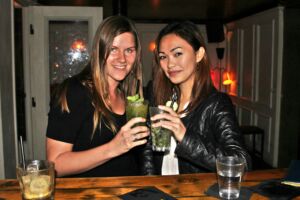 Located in a basement on the street of Klosterstræde there lives a roaring beast that is just waiting to come out.
The name symbolises the contrast between expectation and perception, and the bar offers an alternative to quiet and pretentious cocktail bars that just serve sophistication without the quality.
If you enjoy a good quality cocktail that is on par with the experience you get – Bæst is the place for you!
Sparks on your taste buds
If you prefer your cocktails sweet without them being too overwhelming, or you are very particular about the right amount of your favourite citrus fruits squeezed and mixed into your drink – now you know where to go!
First, we were served one of their best-selling cocktails, 'The Maverick', a mix of vanilla vodka, passion fruit, lemon and sugar. Just a small sip took my breath away. We kidded the bartenders to see if they sold them by the pitcher – unfortunately they did not. It had the right amount of sweetness and sourness and was gloriously combined to leave us wanting more.
They then surprised us with yet another flavourful signature, the 'Cucumber Collins'. It was a combination of gin, cucumber, lime, sugar and ginger two-ways. The drink was so refreshing it made you daydream that you were on an island sipping on that very drink whilst reading a book and getting a tan.
A beast's cave
A lot of people might perceive that it is a small shop or restaurant from its exterior, but Bæst is a reminder of how you should never judge a book by its cover because when we entered, we were impressed how elegant the place looked.
And also how welcoming: we were treated so well by the bartenders, who made us feel like we were at home.
Bæst is furnished with dark colours that give it a classy and prestigious look. And while there are plenty of stylish seating areas, as the night evolves, dancing is encouraged!
Drinking with a champ
Elliot H Jayes, the bar manager, happens to be the winner of last year's Danish Championship of Freestyle Bartending/Mixology. Not only does he make exquisite cocktails, he personalises them in a way that ensures his customers will savour every sip. Each cocktail has its own attitude and would cater to every one's taste buds; whether they have a sweet-tooth or are a citrus lover.
And just as Jayes said: "The more you eliminate the pretentiousness of a normal cocktail bar, the better your atmosphere will get."