General
At Cinemas: Can his Boston Bulger reach the Brasco benchmark?
---
This article is more than 8 years old.
Beaming back Benedict for the Cumber Bitches!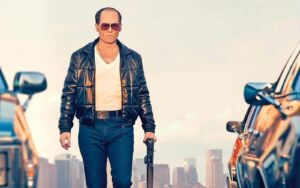 The one pleasant pit-stop on the rapid descent into our miserable Scandinavian winter is the increasingly embraced American tradition of Halloween. For cinema-lovers, it means these darker days carry the promise of bloodcurdling on-screen screams otherwise lacking during the warmer months.
A strong contender for this year's Halloween crown is the latest film from Hellboy director Guillermo Del Toro: Crimson Peak. A favourite of mine, he's contributed to the genre with some of the most original horror in the last two decades – among them Cronos, The Devil's Backbone and Pan's Labyrinth. Can he continue his winning streak? Crimson Peak is reviewed this week.
Also out this week is gangster drama Black Mass in which Jonny Depp wears blue contact lenses so light in colour that he appears to have stepped out of a horror film himself. He plays real-life mafioso Whitey Bulger, 'the most infamous violent criminal in the history of South Boston'. Is Depp back on Donnie Brasco form? The reports are mostly positive.
If you're tired of the cinema and fancy some top notch theatre instead, London's Barbican Theatre just got a lot closer. The National Theatre's production of Hamlet is beaming live every evening into Palads Bio and Lyngby Bio for the last two weeks of October. Benedict Cumberbatch plays the eponymous prince.
Cinemateket's season of nine atmospheric films under the title In The Deep South this week screens Wise Blood at 21:30 on Friday – I highly recommend this classic by John Huston that features career bests from actors Brad Dourif and Harry Dean Stanton.
Also starting this week is Fritz Lang's 1927 robocalyptic classic Metropolis with a new score by Brian Eno, Massive Attack, Portishead, Faithless and New Order – details at dfi.dk/Filmhuset.
On Wednesday (21st) at 19:00, you can catch Il Giovane Favoloso – a portrait of the beloved poet and thinker Giacomo Leopardi. It's the third film in Gloria Bio's Grazie Gloria series of recent Italian cinema with English subtitles.
Finally, if Crimson Peak doesn't cut deep enough, you could always get your fear fix from Huset (huset-kbh.dk) this week when they screen Roman Polanski's masterwork Rosemary's Baby on Thursday 15th at 19:30.